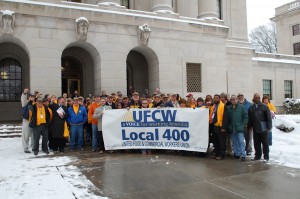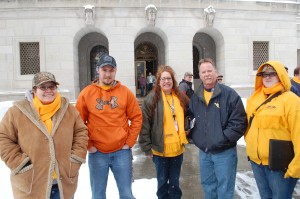 Last Wednesday, more than 100 members from UFCW Locals 23 and 400 met with state senators and delegates from both parties to explain how devastating a right to work law would be to West Virginia's working families. Like too many other states, West Virginia is considering unfair right to work legislation.
"We are lobbying today to put a stop to this anti-worker legislation," said Richard Ruth, a UFCW Local 23 member who works at Kroger in Weirton, West Virginia. "I explained to every legislator I spoke with that this law will hurt workers, including myself. Thanks in large part to being part of a union, I've earned a decent living my entire career and this law will just take away everything I've gained over the years. I wish they would focus on creating good paying jobs. This law just attracts low-wage, minimum wage jobs. We want and deserve better than that."
Tim Cyrus, a UFCW Local 400 member who works at Kroger in Hinton, West Virginia, was frustrated that state legislators were not spending time on more important issues.
"It's insulting that they only meet for 60 days and they choose to pursue a law that has been proven to lower wages," he said. "Just look next door at Virginia; people there are making less money for the same work we do. That's not fair. I would like to see them pass laws to help our struggling schools. This right to work bill is just a complete waste of time."
Tami Faulknier, a UFCW Local 400 member who has worked at Kroger in Dunbar, West Virginia, for 30 years, spoke to legislators about the stability that comes to working families when they have the security of a union.
"I'm concerned that we're going to pass right to work and take our state backwards," said Faulknier. "Right to work will erode our bargaining power and make it harder to earn the raises and benefits that we deserve. Sticking together has helped so many workers in West Virginia; it's wrong to attack them. Working people deserve better, and right to work would only leave them worse off."
UFCW members left the Capitol feeling proud of the impact they made.
"Being here today was important because we, the working families, are the backbone of the middle class," said Alesia Brogdon, a UFCW Local 23 member who works at Kroger in Weirton, West Virginia. "West Virginia can't be strong unless we're strong too. What needs to happen is simple; businesses need to provide a living wage with fair benefits. Right to work makes it more difficult to earn a living wage. It's a completely unfair law that does nothing to help the average person."