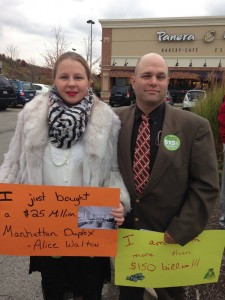 Last week at a Walmart near Pittsburgh, Pennsylvania, Walmart workers and supporters, many of whom were UFCW Local 23 members, held a protest as part of a growing movement of associates nationwide calling on the Waltons to publicly commit to pay a living wage of $15 an hour and give access to full-time hours for all.
The workers and supporters emphasized that Walmart's poor standards affect all workers in the grocery and retail industry, setting the bar for low wages, bad scheduling, and disrespect on the job.
In the next few weeks, Walmart workers will continue to call on the Waltons–America's wealthiest family–to heed the wishes of workers at over 2,100 stores nationwide who have signed the petition calling for $15 and hour and full-time hours.
To see all the action from the protest, click here.