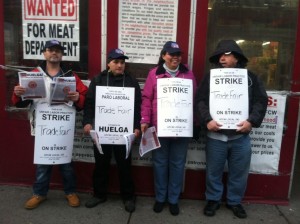 Sixty-five members of UFCW Local 342 who work for Trade Fair Supermarkets are celebrating winning their labor hearing with more than one million dollars in back pay, retirement, and medical coverage. UFCW Local 342 filed a case with numerous unfair labor practices (ULPs) to the National Labor Relations Board (NLRB) against Trade Fair following a rough year that included a strike, a lockout, and retaliation against workers.
Trade Fair Supermarkets consist of ten store locations mostly across Queens, New York. UFCW Local 342 members work in the meat departments while RWDSU/UFCW Local 338 members work in the "front end" (all departments, except meat) of all ten stores.
Workers had been trying to negotiate a new contract for nearly a year with fair and affordable health care and benefits when the old one expired in November 2012. During negotiations for the next few months after the contract expiration, the company would not bargain in good faith and proposed cutting hours and benefits for full-time workers. When the workers got wind of management's proposed cuts, they decided to exercise their collective bargaining rights by leafleting the community during their off-work hours and off of company property.
Management responded to members taking action with threats of termination, aggressive harassment, and the retaliatory cutting of hours. In March, members planned an unfair labor practice strike to protest the harassment and threats by management. In response, management locked workers out of the store. The lockout by management and protests from UFCW members and the community would last until September 2013. Management ended the lockout because they knew they would be found guilty of unfair labor practices.
Following their reinstatement, members suffered continued retaliation from management. Veteran workers were demoted; full-time schedules were cut to part-time, and many workers experienced wage cuts. Workers banded together with their union and submitted a series of ULP filings with the NLRB in response to the retaliation. With their case now decided in their favor, members have protected their wages, benefits, and rights at work. Trade Fair workers are currently in bargaining and management stipulated in its settlement with the NLRB that they will bargain in good faith.