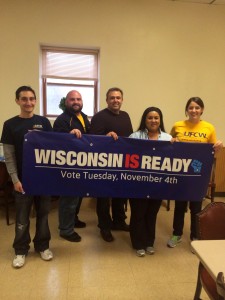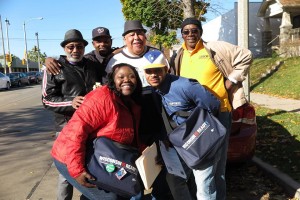 More than 50 UFCW activists have taken to the streets to convince Wisconsin voters to support Mary Burke for Governor. Members of UFCW Locals 2, 21, 99, 135, 365, 367, 435, 538, 653, 1167, 1189, 1439, 1473,1994, 1995, and staff from Regions 1, 2, 4, and 5 have been knocking on doors all across the state from Milwaukee to Sheboygan, and numerous other cities including Appleton, Madison, Janesville, La Crosse, and Superior.
Leading up to Election Day next week, UFCW members are working hard to elect candidates like Burke who fight for workers and their families. UFCW activists are supporting Burke in her run against the current anti-worker governor Scott Walker.
Other UFCW members who are spreading the message about the importance of getting out to vote for candidates who will fight for workers include UFCW Local 227 member Shannon McMurray from Kentucky. In an article in the Louisville Courier-Journal, she discusses the critical upcoming election in Kentucky and the battle over right to work. Her article can be read here.