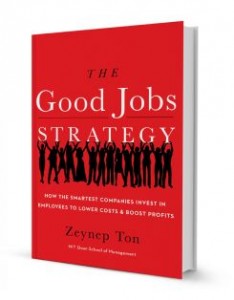 While the retail sector continues to play a major role in adding jobs to the economy, many of these jobs are low-wage or part-time positions. According to the Department of Labor, U.S. employers added 288,000 jobs in June as the unemployment rate fell to 6.1 percent, and 40,000 of those jobs were in the retail sector.
Although the retail sector—which is an important employer of minorities and women—has added an average of 26,000 jobs per month over the past 12 months, too many retail workers are struggling to survive in minimum wage jobs with inconsistent hours and few benefits. According to the Bureau of Labor Statistics, workers in the retail industry typically make about $10.29 per hour or $21,410 per year—which is below the federal poverty level of $23,850 for a family of four.
Academic studies show that giving retail workers access to full-time schedules, better pay and benefits could pay off for employers. Zeynep Ton, an adjunct associate professor at the M.I.T. Sloan School of Management and author of The Good Jobs Strategy, maintains that retailers such as Costco that invest in their employees—including higher pay, better benefits and schedules, and more training—have seen positive results, including healthy sales and profit growth, higher labor productivity, lower turnover and higher customer satisfaction.
Retail jobs are here to stay, and more and more workers in this industry are taking a stand for better wages and benefits. It's time for leaders in the retail sector to listen to their workers and lead the way in making sure that retail jobs are good jobs with benefits so that workers in this growing industry have a pathway to the middle class.