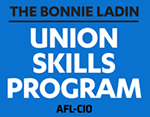 UFCW local staff members are upgrading their skills at the AFL-CIO's Bonnie Ladin Union Skills (BLUS) Training Program.  The program is designed for union leaders, staff and community activists and offers hands-on training around the areas of union administration; collective bargaining; organizing; arbitration and grievance handling; communications and media; and best financial practices.
Taught by a group of experienced instructors, the BLUS program brings together rising union activists and community allies with the end goal of helping participants to better serve their unions and communities.  The program was recently named after former union organizer and National Labor College professor Bonnie Ladin, who passed away in 2010.
"I thought the course I took, which revolved around contract negotiations, was one of the best courses that I had the opportunity to attend," said Rhonda Judd, a manufacturing and processing coordinator at UFCW Local 227. "I encourage my colleagues at other UFCW locals to participate in this training program because it's well worth it."
UFCW local staff members are encouraged to participate in the program, which will be held at the Maritime Institute in Linthicum Heights, Md. Click here for more information and to sign up for the nest round of classes that start in the fall.