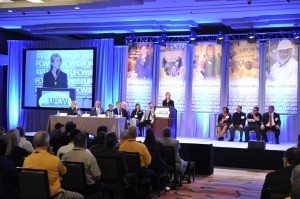 UFCW local union leaders and legislative and political representatives from across the country met in Chicago last week for the 2014 Legislative and Political Action Conference. Conference participants learned about what's at stake in the 2014 elections and how to strategize on key campaigns and statewide anti-union initiatives like Right to Work. Kentucky Secretary of State and candidate for U.S. Senate Alison Lundergan Grimes roused the crowd describing her plans to unseat Senate Minority Leader Mitch McConnell.
Attendees also heard speeches from elected officials, candidates, cabinet members, and clergy. The conference was an opportunity for UFCW locals across the country to discuss important issues and prepare for the 2014 midterm elections.
Local unions weighed in at the conclusion of the conference.
"I particularly enjoyed Secretary Perez. I was really pleased with the connectedness he had with our issues and our members. As a political wonk, I also liked hearing all of Charlie Cook's political predictions. It was great to hear realistic projections for all over the United States. Having two women open up the conference was somethi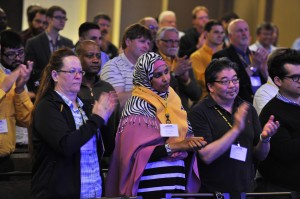 ng I appreciated. Both Wendy Davis and Alison Lundergan Grimes were excellent." – Mary Lou Weymer, UFCW Local 1996
"My favorite part of the conference was walking on stage with Alison Lundergan Grimes and helping not just folks in Kentucky, but everyone in the room get excited for the fall and get ready for the hard work we're about to do." – Caitlin Lally, UFCW Local 227
"This conference overall was motivating. Secretary of Labor Tom Perez was fantastic. He broke everything down in common sense terms and proved that he understood labor issues.
He was able to put things together so that anyone can realize the importance of labor unions and the right to organize. Everyone who attended should be able to take back something useful to their members." – Chris Naylor, UFCW Local 1776
"My favorite part was Reverend William Barber. He really put it in perspective why we all have to be more engaged and look at the long picture. This is our opportunity to bring out a base that was not there in 2010." – Jeff Anderson, UFCW Local 555
More photos can be viewed at http://bit.ly/LPAC2014 and additional photos will be posted in the coming days.