On Oct. 6, cannabis cultivators at the Columbia Care Cannabist facility in Vineland, N.J., joined UFCW Local 152 for a better life. The 12 cultivators at the facility grow and process cannabis, overseeing its production and preparing it for sale to consumers.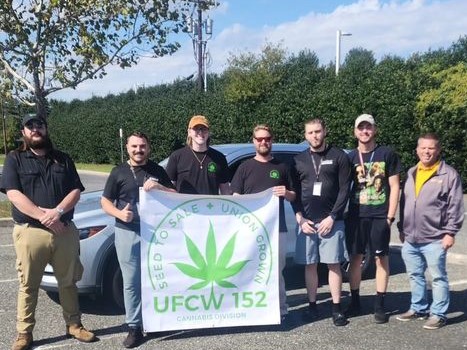 The workers joined our union family via card check last month, leading to the certification of the results by the New Jersey State Board of Mediation and the designation of UFCW Local 152 as the workers' union.
"We are proud to represent these cannabis cultivators," said UFCW Local 152 President Brian String. "We take seriously their trust in our union. We will ensure their voice is heard and their hard work is respected."
UFCW Local 152 will continue to meet with the workers to draft contract proposals and schedule bargaining dates with the company. The cultivators seek wage increases and improvements to their working environment, including training and expanded access to protective equipment.
This organizing win follows another successful cannabis-related drive by UFCW Local 152 earlier this year at an MPX/iAnthus facility in Pleasantville, and workers at The Botanist dispensaries in Egg Harbor and Atlantic City ratified a strong first contract with wage increases in June.
"As our Cannabis Division grows, so does our strength at the bargaining table," String said. "A fair contract and fair treatment for cannabis workers is possible in New Jersey and beyond."