On Oct. 24, UFCW Local 99 hosted a town hall meeting in Phoenix with Federal Trade Commission (FTC) Chair Lina Khan to highlight the potential negative impact the Kroger Albertsons megamerger will have on our members and the communities they serve. Arizona Attorney General Kris Mayes, who launched an anti-trust investigation into the proposed deal in February, also spoke at the event, which was held at North High School and livestreamed on the UFCW International Facebook page.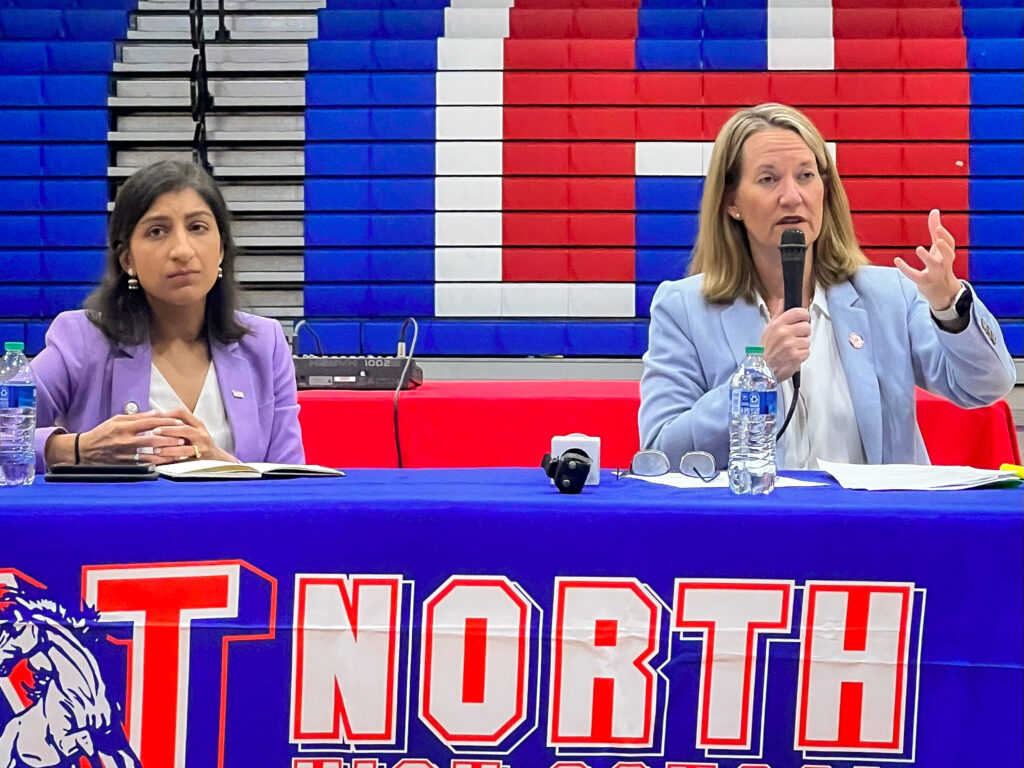 Hundreds of UFCW Local 99 members from Fry's (Kroger), Smith's (Kroger), and Safeway (Albertsons) attended the town hall meeting and more than 1,000 viewers tuned in online to hear Mayes and Khan answer questions regarding the merger and its potential impact on jobs in Arizona and across the country. UFCW Local 99 member Joe Fonseca, who works at a Safeway store in Scottsdale, asked Mayes and Khan if his UFCW contract would be protected if the merger went through.
"I think the answer is we don't know. And I do not like that we don't know," said Mayes.
UFCW Local 99 President Jim McLaughlin served as the emcee at the town hall meeting and highlighted the unprecedented nature of the proposed $24.6 billion megamerger in his opening remarks.
"Arizona grocery workers are no strangers to mergers," said McLaughlin. "Many of our longest-tenured members… began their careers at local chains like Lucky's, Alpha Beta, ABCO, Smitty's and Smith's, all of which have since merged with or been acquired by a larger parent company. Through each merger and acquisition, UFCW Local 99 –through all its iterations– has been there every step of the way to protect our members and their livelihoods."
"And while we are continuing our work with our International Union to oppose this merger, I think it's fair to say that the Kroger Albertsons megamerger is truly unprecedented in its size, scope and potential impact on Arizona families," McLaughlin added.
You can watch the town hall meeting in its entirety here.