UFCW Locals 75, 880, and 1059 played an important role in educating and mobilizing members leading up to an important special election in Ohio on August 8.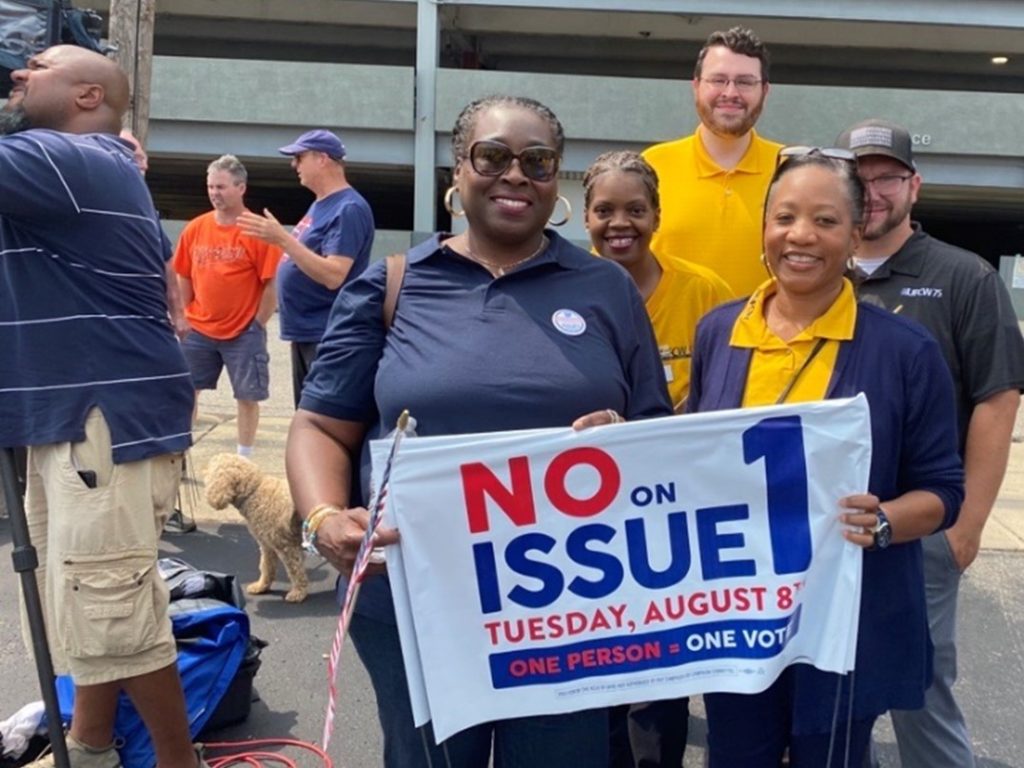 All eyes were on Ohio when the state held a special election to vote on State Issue 1 on Tuesday, August 8. Issue 1 was a proposed change to the state's process for citizen-initiated constitutional reforms that would have made it virtually impossible for Ohio citizens to make changes in the state by increasing the vote threshold to 60 percent, requiring a higher signature threshold to qualify for the ballot, and eliminating a signature cure period.
Issue 1 was introduced by supermajorities in the Ohio legislature in November 2022 to stop popular reforms like a minimum wage increase and independent redistricting measure from passing and making it to the ballot in upcoming election cycles. On election day, Ohioans overwhelmingly rejected Issue 1 with 57 percent of the vote going to the "no" side, and turnout shattering estimated projections for the traditionally low August special election participation rate.
With help from the International's Legislative and Political Action Department, UFCW Locals 75, 880, and 1059 were engaged in the fight against Issue 1 from its inception in the state house all the way through the election. When the early vote period started on July 11, the Ohio locals launched a member-to-member engagement program that worked to educate members about Issue 1 and turn them out to vote "no" in the August 8 special election.
In just four weeks, the UFCW's Ohio Political Member Organizer Team had almost 4,000 conversations in worksites in every region of the state and made over 3,900 phone call attempts to identify over 2,600 likely "No on Issue 1" voters within the UFCW's Ohio membership. On top of their member-to-member work, the team also provided on the ground canvassing support to the Ohio AFL-CIO by knocking on over 4,000 general public doors during two days of action and over GOTV weekend.
UFCW Local 1059 Political Member Organizer Alexander Frazier said the member-to-member engagement program made a real impact on UFCW members.
"When I would go into the stores each day, so many of our members said they didn't know we had a special election this summer or had never heard of Issue 1," Frazier said. "After many conversations, folks said they were thankful for us being out in stores and letting them know how Issue 1 would hurt Ohio. I have been out with the union doing political work before, but this special election was a whole new experience and I really think our work made a difference in defeating Issue 1."