UFCW Local 431 Secretary-Treasurer Ashley Danner recently participated in a labor roundtable hosted by newly-elected U.S. Representative Eric Sorensen (Ill.-17) in Rock Island, Ill. Representative Sorensen is a member of the Agriculture Committee, which is especially important this year as our union works towards passing a worker-friendly Farm Bill.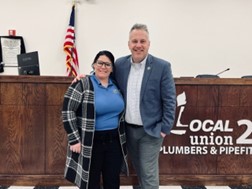 The labor roundtable provided an opportunity for Secretary-Treasurer Danner to talk about the Farm Bill and promote the UFCW's priorities in the bill, which include:
• Fair labor standards in food procurement.
• Funding for the Farm and Food Worker Relief Grant Program.
• Full funding for SNAP and improvements that ensure that online and delivery services support good jobs.
• Meat processing line speed tied to worker safety.
Attending labor roundtables and other district meetings hosted by elected officials is a great way to keep pushing our priorities forward in the Farm Bill and other legislation. UFCW Political Coordinators will update you when elected officials invite the UFCW to district meetings. If you want to look for events yourself, visit your elected official's website.
If you need help preparing for a meeting with an elected official, please contact Deputy Legislative Director Haley Nicholson at hnicholson@ufcw.org.