Workers at the Keurig Dr Pepper warehouse in Fairmont, W.V., recently voted to join UFCW Local 400 for a better life.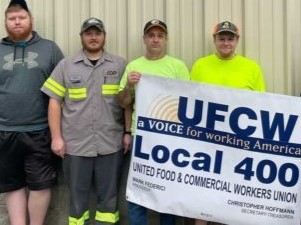 UFCW Local 400 has represented drivers and other workers at Keurig Dr Pepper for years and existing members provided support for the organizing campaign.
The Fairmont warehouse workers joined UFCW Local 400 because they wanted the benefits of the contract covering their Keurig Dr Pepper sisters and brothers. They were also concerned about vacation requests being handled in an arbitrary fashion and not receiving the perfect attendance bonuses they had earned. They all signed UFCW Local 400 cards and submitted them to management on December 22, 2022.
By voting 'yes,' the Fairmont warehouse workers are now covered by the contract UFCW Local 400 negotiated for Keurig Dr Pepper drivers. The contract's benefits include a fair and orderly process for determining vacation days, comprehensive health care coverage, and significant wage increases as of May 16, 2023.