Help us draw attention to pay disparities for Latinas on Latina Equal Pay Day, which takes place on Thursday, Dec. 8. Latinas are now the largest group of women workers in the U.S., behind non-Hispanic whites. Numbering more than 12 million, Latinas account for 16 percent of the female labor force – a figure that is projected to grow dramatically, according to the Bureau of Labor Statistics.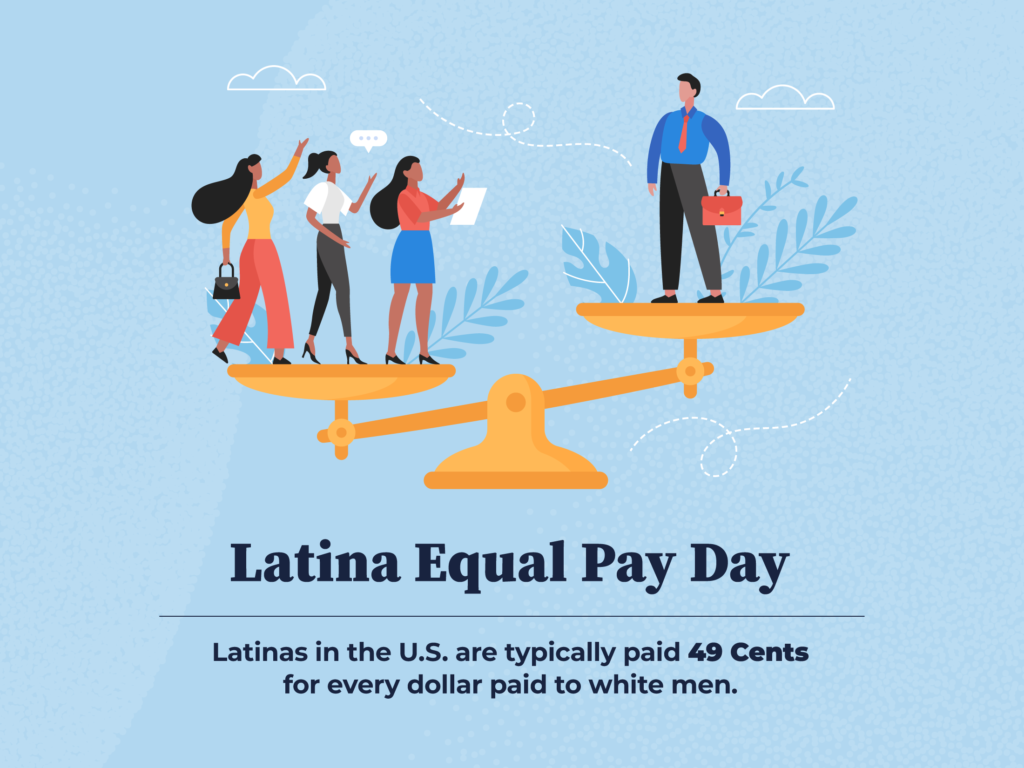 While Latinas play a critical role in America's workforce, their wages continue to lag significantly behind those of their white male counterparts. This year, Dec. 8 marks Latina Equal Pay Day, a symbolic representation of the number of additional days Latina women employed full-time, year-round must work, on average, to earn what white, non-Hispanic men earned the year before.
Here are five facts about Latina women in the labor force:
1. Hispanic women experience the largest wage gap of any major racial or ethnic group. For every dollar earned by a non-Hispanic white man, a Latina earns just 49 cents – a situation no doubt reflected in the fact that almost one in 10 (9 percent) of Latinas working 27 hours or more a week are living below the poverty line.
2. Today's gap reflects a long-standing pattern. Looking back over the past 30 years, Latinas have consistently earned less than 60 cents for every dollar earned by non-Hispanic white men; and today's gap is only about five cents smaller than it was in 1990.
3. The Latina wage gap persists even after controlling for educational differences. Latinas are less likely to have completed education beyond high school than other groups, but this fact does not explain away the entire wage gap. Even within each educational level, their wages remain relatively low compared with white men.
4. The pandemic hit Hispanic women particularly hard. Hispanic women experienced the steepest initial employment losses of any major group early in the pandemic. In April 2020, almost one-quarter (23 percent) fewer Hispanic women were working relative to just before the pandemic in February 2020. In comparison, this figure was 19 percent for Asian women, 18 percent for Black women and 16 percent for non-Hispanic white women.
5. Latinas have relatively high labor force participation rates and unemployment rates. In September 2021, labor force participation for adult Hispanic women was 57.7 percent and unemployment was 5.6 percent. In comparison, these figures for adult white women were 56.1 percent and 3.7 percent. This disparity in pay hurts not only Latinas, but also significantly impacts the families and communities they support.
This is the last "Equal Pay Day" observance of the year, which means that Latinas essentially work longer than everyone. Additional information about Latina Equal Pay Day is available here.