UFCW members made their voices heard at the U.S. Department of Labor's (DOL) Workers' Voice Summit in Washington, D.C. on Sept. 27 to 29. The three-day summit, which was hosted by the Occupational Safety and Health Administration (OSHA), in collaboration with other agencies, provided an opportunity for workers across the country to raise workplace concerns with OSHA and other DOL officials.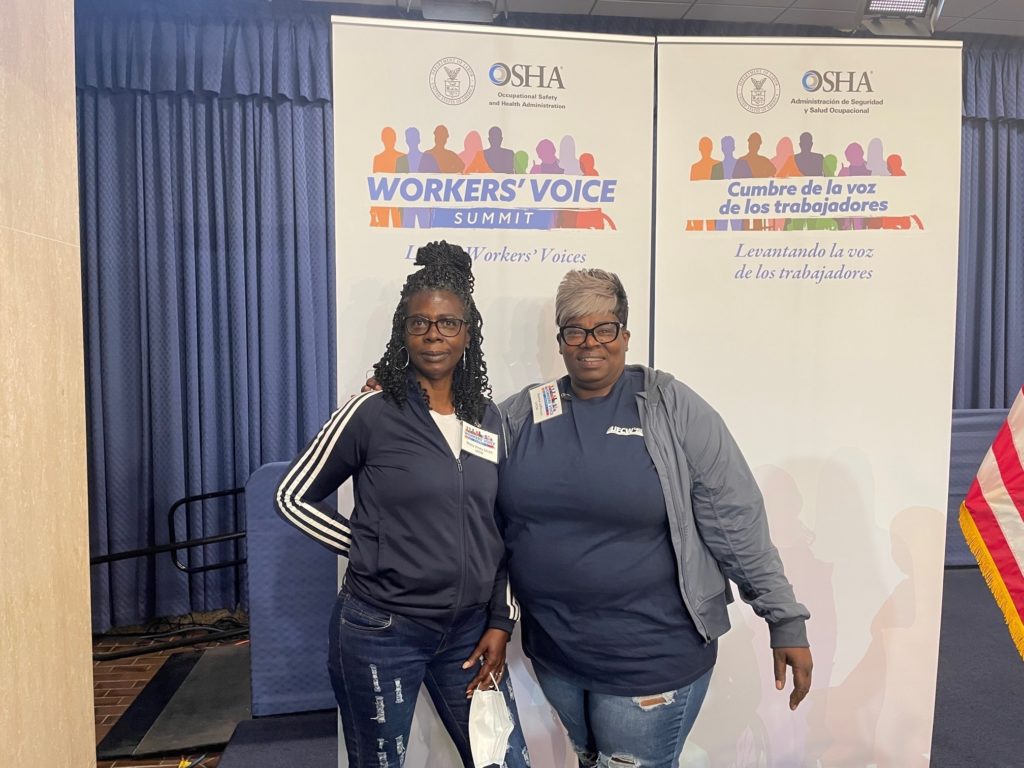 Officials from DOL's Wage and Hour Division, Office of the Solicitor, Women's Bureau, Bureau of International Labor Affairs, Office of the Assistant Secretary for Policy, and Office of Public Engagement also joined the event.
At the summit, UFCW Local 400 stewards and Tyson Foods employees Benita Jefferson and Mary Vines-Smith raised concerns about OSHA workplace visits and the need for sick leave.
"Our maintenance people are being made to work seven days a week for 12 hours a day and they can't even get a day off," said Jefferson. "They're tired and overworked. If they call in sick, they're getting points for taking a sick day. It's just not right… something has to be done."
"There was an occasion when OSHA came into the facility and did not notify me as the chief steward that they were in the plant," said Vines-Smith. "I've been trained to know that they are supposed to involve and notify the union when they are doing an inspection or accident investigation. There needs to be another summit like this in every state to address the issues of workers."
"It's so vitally important that UFCW members participate in these types of events because there are so many untold stories that OSHA needs to hear," said Roy McAllister, the interim director of the UFCW Occupational Safety and Health Office. "Many of the experiences shared during the summit were heart- wrenching to say the least, because it's unfathomable that workers are still experiencing the atrocities in 2022 that we thought the labor movement had eradicated so many years ago. There's so much more work to be done."
"The Department of Labor is going out of its way to listen to workers and unions these days," said International Vice President and Director of the Legislative and Political Action Department Ademola Oyefeso. "This conference and all the 'Know Your Rights' materials on Worker.gov are just the latest example of Secretary Walsh and President Biden leading the most pro-worker administration in memory."