Workers at four Half Price Books stores in Coon Rapids, Roseville, St. Paul, and St. Louis Park, Minn., recently joined UFCW Locals 663 and 1189, making this the first union at the national bookstore chain. These workers joined our union family to secure livable wages, better working conditions, and a voice in the workplace.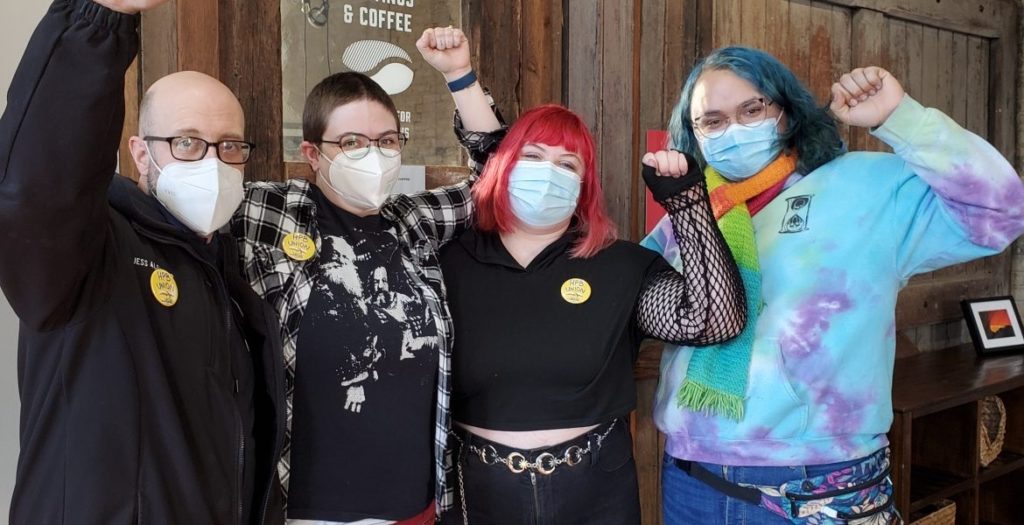 The workers at the Coon Rapids, Roseville, and St. Paul Half Price Books stores joined UFCW Locals 663 and 1189 on Dec. 16. The workers at the St. Louis Park store joined our union family on Jan. 6.
"For us at Northtown, a vote for the union is a vote for securing our agency and voice as workers," said the workers at the Coon Rapids (Northtown) store. "We look forward to negotiating a contract that will make this an even better and more democratic place to work for current and future employees, to the benefit of both—those of us at the store and the company as a whole."
"My coworkers and I have spent hundreds of hours preparing for this day," said Aaron Kerr, who works at the Roseville store. "We have faced many issues over many years, and are now prepared to make our store one of the greatest places in the world to work. It is truly a historic day for everyone."
"We're excited to unionize because we've been working so hard throughout the pandemic and faced huge challenges— like low staffing levels, on-the-spot training and overwhelming workloads— all while risking COVID exposure every day we go into work," said Hanna Anderson, who works at the St. Paul Half Price Books location. "Through it all, we've stuck together. We all want to continue working at HPB, and it's exactly because we enjoy working here that we want to unionize and make it a place that we can sustainably stay employed long-term. I am so excited to unionize because I know it will help us to be compensated appropriately for the work we do, to have a voice in policies affecting our ability to do our day-to-day jobs, and to protect the benefits we have earned!"
"We're happy we organized a union so we can have protection of our jobs, benefits and equal treatment for all in our workplace," said Kristin Tamayo, who is a bookseller at the St. Louis Half Price Books location. "Now, we will have a voice at work and a seat at the table when it comes to making decisions that directly affect us and our well-being. We're so excited to be part of this labor movement happening right now with booksellers and other members of the working class across the country."
"We welcome frontline workers at Half Price Books with open arms to the UFCW family," said UFCW Local 663 President Matt Utecht. "The best way to meet the moment is as a union. We are truly stronger together."
"Half Price Books employees have come together to exercise their right to bargain and have stood in solidarity in a way that even long-time union activists can admire," said UFCW Local 1189 President Jim Gleb. "We are thrilled to welcome them to the UFCW family and look forward to bargaining a first contract alongside the brave workers."
The Twin Cities is home to six Half Price Books stores, which are located in Apple Valley, Coon Rapids, Maplewood, St. Louis Park, St. Paul and Roseville.