UFCW members can now earn a free online Cannabis Business Fundamentals Certificate through our union's Free College Benefit Program.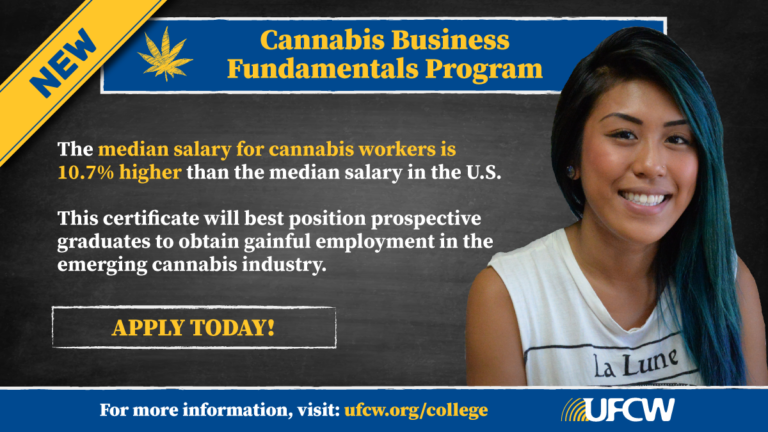 There are over 30 states that have legalized medical marijuana and, each year, more states are legalizing it for recreational use. As this industry continues to expand, the UFCW's partnership with Eastern Gateway Community College (EGCC) can help you kick off your career in this emerging sector.
This program is fully online and consists of the following topics:
• Introduction to Cannabis
• Cannabis Law and Policies
• Cannabis Symptom Management
• Cannabis Retail Customer Support
This certificate is embedded in EGCC's Business Management degree and will best position students for gainful employment in a dispensary and provide a jumping-off point into more advanced studies in horticulture, pharmacology, and other advanced topics.
UFCW members and qualifying family members are eligible to enroll in the program.
To take advantage of this benefit, you will need to apply to EGCC here. For more information or additional support, call 888-590-9009.
Graphics and other material to help locals promote the new Cannabis Business Fundamentals Certificate are available here.