UFCW OUTreach is offering five scholarships for rank and file UFCW members to attend next year's Creating Change Conference in New Orleans. The conference, which will take place on Jan. 12 to 16, 2022, is organized by the national LGBTQ Task Force.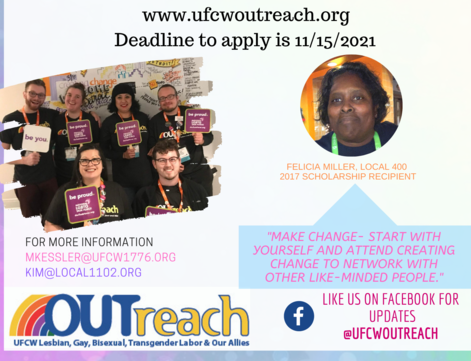 This is the fifth year that UFCW OUTreach has provided scholarships to the Creating Change Conference, which is the foremost political, leadership, and skills-building conference for the LGBTQ+ social justice movement. Scholarship recipients will learn about a broad range of social justice issues and develop skills to bring back to their workplaces and local unions.  Past session topics have included labor, gender equality, community organizing, criminal justice, immigration and more.
UFCW OUTreach Executive Board members attending the conference each year have served as a key voice for issues impacting hard-working families and the labor movement. Providing scholarships to UFCW members helps our union family to strengthen new member recruitment and develop new leaders within our union and in the broader LGBTQ+ movement.
The submission deadline for the five scholarships is Monday, Nov. 15. You can get more information about UFCW OUTreach scholarships to this important conference here.
If you have any questions or want to learn more about UFCW OUTreach, please contact Michele Kessler at MKessler@ufcw1776.org or Kim Frost at Kim@local1102.org.