A new digital toolkit for locals from the Communications Department will help members across the country show support for UFCW Local 23D members on strike at the Heaven Hill distillery in Bardstown, Ky. The digital toolkit includes talking points about the strike, as well as social media graphics. A flyer is also available for locals to use in support of the striking workers.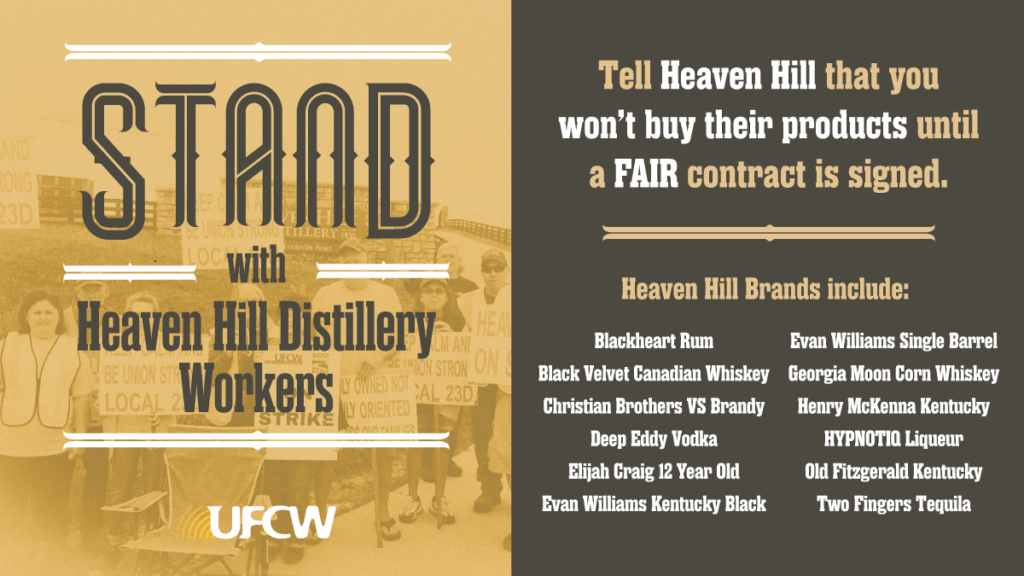 The over 400 members of UFCW Local 23D who work at the Heaven Hill distillery are on strike to protest a proposed five-year contract that reduces wages and benefits. The proposed contract lifts a cap on health insurance premium increases that reduce take-home pay, cuts overtime, and drastically changes work schedules.
UFCW Local 23D has been in negotiations with the company for nearly two months to reach an agreement for these Kentucky workers even as Heaven Hill reported $500 million in annual revenue and the COVID-19 pandemic continues. In July 2021, the union called for a federal mediator to join the process to help to advance talks with the company. On Sept. 9, Heaven Hill workers voted on the company's latest proposal and 96 percent of workers rejected the contract proposal. The strike began on Sept. 11 at midnight. Since the strike started, the company has canceled the workers' insurance and sent them all COBRA forms.
UFCW Local 23D recently condemned a new move by the distillery to hire non-union workers in an attempt to push longtime employees out of jobs. A #StepUpHH grassroots campaign in support of the Heaven Hill workers has already sparked over 5,000 emails demanding Heaven Hill executives restore employee health care and help end the strike by reaching an agreement on a fair contract that protects good Kentucky jobs.
"Heaven Hill workers launched a new grassroots campaign to show the company that Kentucky families and Americans across the country are calling for action on a fair contract to protect these good Kentucky jobs," said UFCW Local 23D President Matt Aubrey in a statement. "In less than a week, support has poured in from the Bardstown community and so many others with nearly 2,000 supporters sending a total of over 5,000 emails to Max Shapira and other company executives."
"As the union for Heaven Hill workers, UFCW Local 23D is calling on the company to end the delays and work together with us to finally reach an agreement on a fair contract so that we can end this strike and get these hard-working Kentucky men and women back on the job," Aubrey added.
The digital toolkit is available here.