Over 400 members of UFCW Local 23D who work at Heaven Hill distillery in Bardstown, Ky., are on strike to protest a proposed five-year contract that reduces wages and benefits. The proposed contract lifts a cap on health insurance premium increases that reduce take-home pay, cuts overtime, and drastically changes work schedules.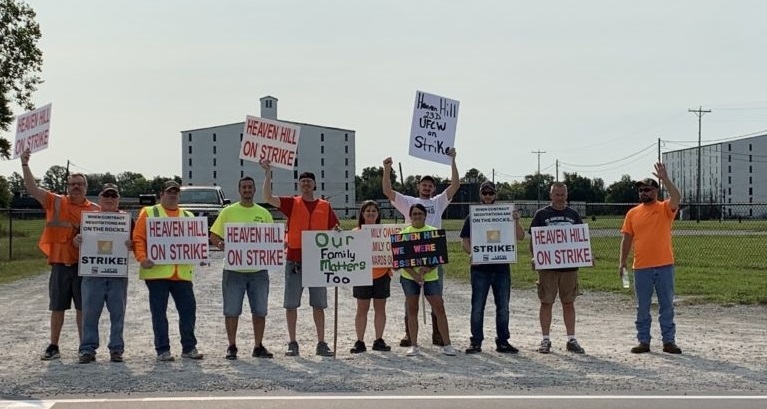 UFCW Local 23D has been in negotiations with the company for six months to reach an agreement for these Kentucky workers even as Heaven Hill reported $500 million in annual revenue and the COVID-19 pandemic continues. In July 2021, the union called for a federal mediator to join the process to help to advance talks with the company. On September 9, Heaven Hill workers voted on the company's latest proposal and 96 percent of workers rejected the contract proposal. The strike began on September 11 at midnight. Since the strike started, the company has canceled the workers' insurance and sent them all COBRA forms.
"Heaven Hill distillery workers have been on the front lines of this pandemic since it began and helped produce the hand sanitizer that kept Kentucky doctors, nurses, and so many other first responders safe when COVID-19 first ripped through our communities," said UFCW Local 23D President Matt Aubrey in a statement. "When so many businesses shut down, Heaven Hill essential workers stepped up, helping to support our families and keep the company and our local economy strong throughout this crisis."
"Health care price hikes that reduce take-home pay, cuts to overtime, and drastic scheduling changes are no way to recognize the incredible service of these Kentucky essential workers, but that is exactly what Heaven Hill is trying to do with this contract," Aubrey said. "How can a company making $500 million a year justify making health care more expensive for essential workers in the middle of a pandemic? What kind of message does it send when a family-owned company is pushing scheduling changes that make it harder for workers to support and care for their own families?"
"Kentucky families have been working at Heaven Hill and proudly serving our communities for generations," Aubrey added. "They want to ensure that these continue to be good jobs that their kids and grandkids can count on so their families can continue this proud tradition of making the high-quality Kentucky bourbon that has powered our economy for decades. Heaven Hill has a responsibility to do right by these Kentucky essential workers and we are urging the company to step up and provide the strong contract that they have earned and deserve."
Heaven Hill Kentucky distillery workers represented by the UFCW produce a wide range of products, including Blackheart Rum, Black Velvet Canadian Whisky, Christian Brothers VS Brandy, Deep Eddy Vodka, Elijah Craig 12 Year Old, Evan Williams Kentucky Black, Evan Williams Single Barrel, Georgia Moon Corn Whiskey, Henry McKenna Kentucky, HPNOTIQ Liqueur, Old Fitzgerald Kentucky, and Two Fingers Tequila.
You can support these workers as they continue to stand together for a better contract by sending a message to Heaven Hill here.