Members of UFCW Locals 663 and 1189 recently testified at the first state public hearing about their experience as frontline workers in Minnesota and the importance of hazard pay. The hearing was part of the Frontline Worker Pay Working Group, which was created by Governor Tim Walz and Minnesota state legislators as part of the state's COVID-19 pandemic response and assistance for essential workers to decide how to distribute $250 million in pandemic pay funds.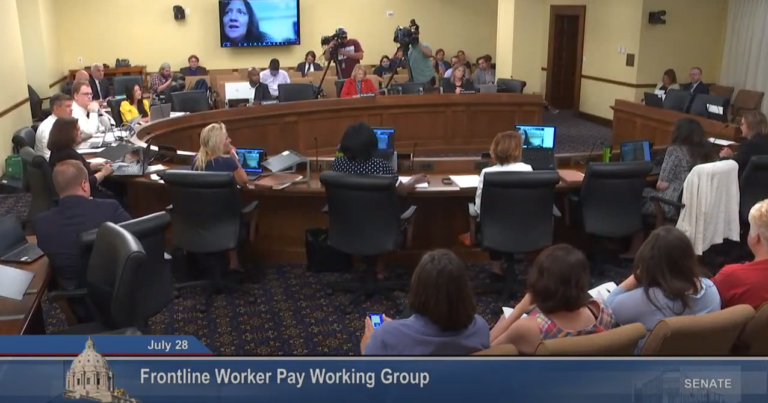 UFCW Locals 9, 663, 1155 and 1189 have been working to advocate frontline worker pay at the state capital to include food, retail and health care workers, as well as meatpacking worker safety, during the COVID-19 pandemic. In Minnesota, the UFCW represents 25,000 workers in retail grocery, meatpacking and food processing, health care and other industries.
Eloy Woods, a UFCW Local 1189 member who works at the Long Prairie Packing plant in Long Prairie, and Antonio Jimenez, a UFCW Local 663 member who works at the JBS pork processing plant in Worthington, testified in support of meatpacking workers receiving pandemic pay during the hearing.
"During the pandemic, we worked even harder. We went from having every other weekend off to working six days a week in twelve-hour shifts," Woods stated. "After the pandemic hit, I became scared to go to work. I have a breathing disorder, which would make me more susceptible to catching COVID and having worse side effects. But more terrifying for me, would be to spread it to my family, when two of my children have preexisting conditions. Long Prairie Packing gave us PPE, installed plastic shields on the line and posted signs in the breakrooms to social distance. Still, more than half of my coworkers contracted COVID during the pandemic."
"In the spring of 2020, a COVID outbreak tore through my plant and I was one of the workers who got sick. I was out sick for weeks," Jimenez said. "I worried the whole time about passing the infection on to my children, family, and friends. My union provided me with information and resources so I could go on short-term disability. Most people I know have at least a couple friends who got COVID. In my plant, more than 50 percent of the workers got COVID."
"While things have improved, COVID is still here in our community, and it's still here for me, personally," Jimenez added. "I still struggle with the after effects – lingering symptoms and fatigue. I support frontline worker pay for meatpacking workers because we have worked to keep this state fed and exposed ourselves and our families to extreme risk in doing so."
Paul Swanson, a UFCW Local 663 member who works at Lunds & Byerlys grocery store in Wayzata, and Lester Tear, a UFCW Local 1189 member who works for Kowalski's grocery store in St. Paul, also testified in support of grocery workers receiving pandemic pay.
"The initial impact of COVID-19 for myself and my coworkers was the rush of customers during the hoarding phase," Swanson said. "We went from doing regular business to three times the business overnight."
"A big impact was COVID protocols at work. If anyone had a COVID exposure, you had to quarantine for 14 days without pay," Swanson added. "This meant my coworkers who are part-timers had no vacation and lost income. Those of us with vacation would have to choose to use vacation to be able to get a paycheck. COVID definitely created financial hardships for grocery store workers. Please include grocery workers as an eligible industry for frontline worker pay."
"Politicians asked grocery store workers to step up and serve our state by making us Tier 1 essential workers," Tear noted. "We did our duty. We have all done our best to step up and it has been an honor. I was more prepared to do this, since I served overseas, so I have been trained to risk my health and safety for the country. When we serve in the military, we get combat pay for working in dangerous conditions. It only seems fair to give pandemic pay to grocery workers for working in dangerous conditions."
"Minnesota's grocery, meatpacking and health care workers did not sign-up to risk their lives, but they have been coming to work throughout the COVID-19 pandemic and serving their communities," said UFCW Local 663 President Matt Utecht. "Our members, and all frontline workers deserve to be compensated for the extreme risk that they and their families face every day. Minnesota should use some of the federal COVID-19 funds to provide premium pay for essential frontline workers this year."
"When the pandemic hit, our members put their own well-being aside to ensure that our communities were fed and cared for," noted UFCW Local 1189 President Jennifer Christensen. "As others were able to work from home, our UFCW members went to work to make sure that families could keep their pantries full and put food on the table. Our UFCW members went to work to make sure that the vulnerable and sick would receive the care they needed. Such sacrifice should be acknowledged, rewarded, and compensated. This pandemic has shown that workers like those in the UFCW are an integral part of our very existence."
You can watch the entire hearing here.
UFCW locals will continue to testify at upcoming hearings. UFCW members are also emailing the Minnesota Frontline Working Group elected officials in support of pandemic pay for health care, grocery, meatpacking, and food processing workers.