The month of June is Pride Month, a time to commemorate the ongoing pursuit of equal justice for the LGBTQ+ community and celebrate the accomplishments of LGBTQ+ individuals in our union family.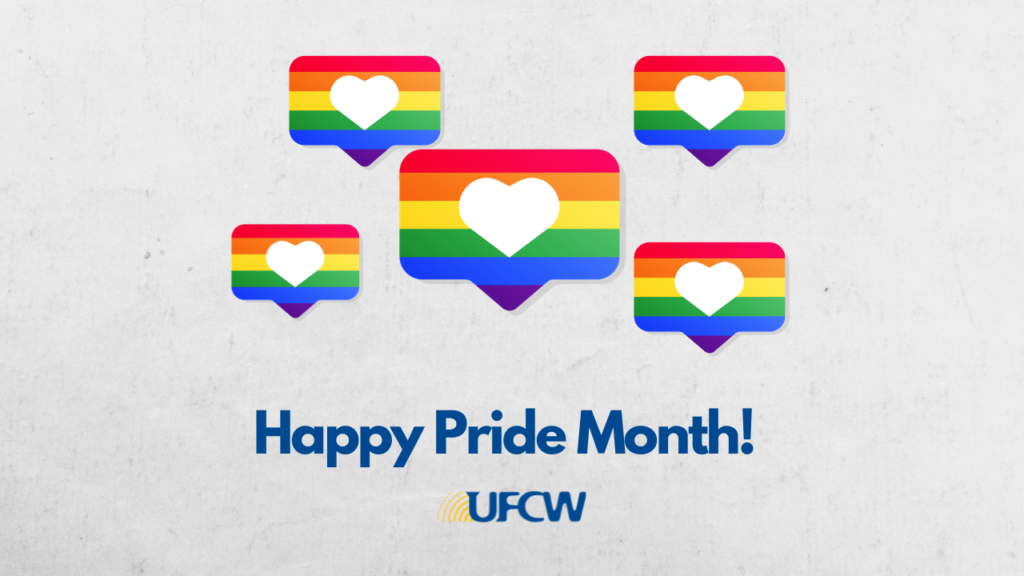 The majority of Pride Month events are held in June to commemorate the anniversary of the Stonewall Inn uprising in New York City on June 28, 1969. At the time, police raids on bars catering to LGBTQ+ patrons were common. However, that night, the patrons of the Stonewall Inn fought back, marking the beginning of a movement to outlaw discriminatory laws and practices against LGBTQ+ Americans.
Resources are available from UFCW OUTreach to help locals celebrate their diverse and inclusive workplaces for LGBTQ+ members and all workers, including the new "Creating An LGBTQ+ Affirming Union" brochure in English, Spanish and French. You can get more information here. UFCW OUTreach is also sponsoring a "Building Inclusive Workplaces: Supporting Our LGBTQ+ Members" training for UFCW staff and leaders on Tuesday, June 22 at 1:30 p.m. (ET) and you can register for the training here.
If your local is interested in sharing photos of events or highlighting a member during Pride Month, please submit that information to Julie Anderson at janderson@ufcw.org.