UFCW Local 2008 member Clark Glen Gibbons, Jr. is retiring after 50 years of making our union better and stronger.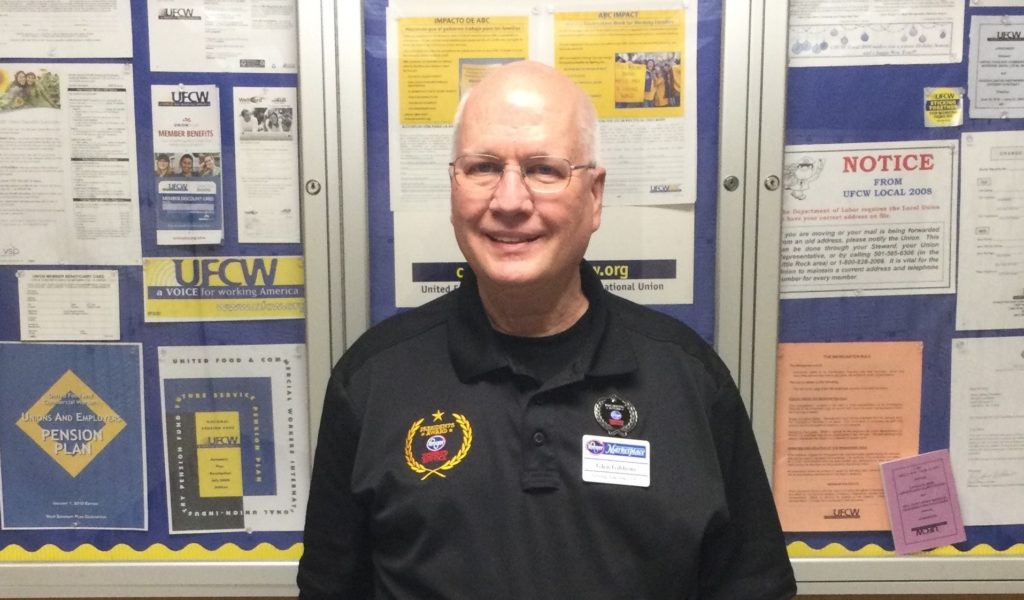 Gibbons, who has been a member of our union family since 1971, is retiring from his position in self-checkout at Kroger Store #622 in Little Rock, Ark. He also served as a vice president on the local's Executive Board and as a local union third trustee, worked on clean-up campaigns and negotiating committees for Kroger, and attended International conventions and steward conferences.
Gibbons reflected on what it's meant to be a part of our union over the last 50 years.
"I really didn't understand what the union was when I was first hired on, but quickly realized its importance," he said. "Over time, I found out how invaluable the union is and realized that all the benefits members enjoy are because of the contracts the union negotiated. Kroger has been a better workplace thanks to the union, and I hope it continues in the future."
He also had some advice for younger members of our union.
"Don't give in and keep fighting for what is right," he said. "We have to stand together and make our voices heard. The old saying 'united we stand, divided we fall' is true, and all members should keep that in mind always."
"Glen is dedicated, passionate, and committed to his fellow co-workers and his union," said UFCW Local 2008 President Steve Gelios. "He has served both for 50 years and will be sorely missed on the Executive Board, and as a negotiating team member for Kroger."
"There are few words that can do justice to a lifetime of hard work and service," UFCW International Marc Perrone wrote in a letter to Gibbons. "Your commitment to this UFCW union family for over 50 years is a testament to you, your values, and your belief in something greater than oneself. It may be difficult for one to always appreciate this, but you made a real difference in the lives of others. The countless number of people you helped serve, the co-workers whose lives you have touched, and the union you supported were all made better because of the special person you are."
"Please know that I am so honored to have been invited to break bread and celebrate your retirement," Perrone added. "Friends and members like you not only inspire me, but remind me of how incredible this union truly is."