The UFCW recently launched the Holiday Shop Smart Campaign to help keep our members safe in grocery stores this holiday season as COVID-19 cases continue to climb.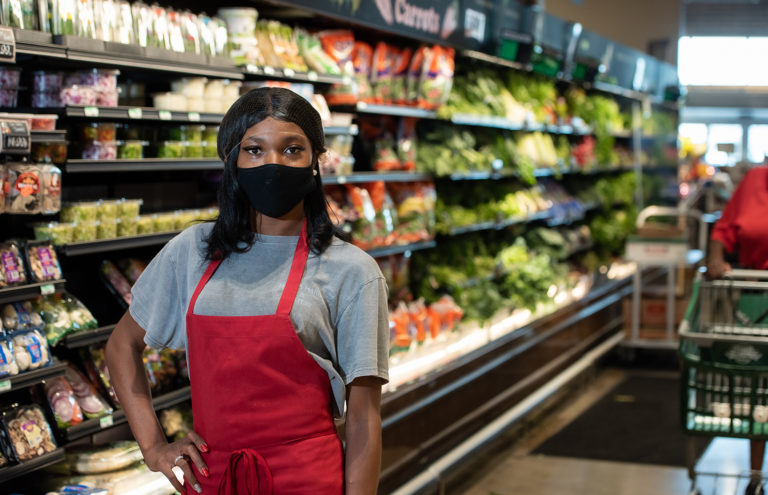 The campaign is targeting regions with major COVID-19 spikes and encouraging American grocery shoppers to take the following steps to protect themselves and workers in stores by: 1) wearing a mask; 2) practicing social distancing; 3) making a list before shopping; and 4) minimizing time in stores.
The campaign is also asking customers to take the #ShopSmart Pledge by taking a mask selfie and posting it on social media with the tags #shopsmart and #savelives; texting "ShopSmart" to 23396 to take the pledge and receive tips on how to make grocery shopping safer for everyone; and following us on Facebook at "Stand With Grocery Workers."
This nationwide public safety effort for the holiday season was announced on the UFCW's national press call on Nov. 23, which highlighted the growing impact this pandemic is having on grocery workers. During the call, UFCW International President Marc Perrone spoke about the growing danger to grocery workers as holiday shopping begins.
"America's essential workers are facing a holiday season of unparalleled danger as COVID-19 cases explode across the country," Perrone said, "With more than 1 million new COVID-19 cases in the past week, and deaths spiking to unprecedented levels, we are entering what could be the deadliest phase of this pandemic for millions of America's essential frontline workers."
Additional information about the Holiday Shop Smart Campaign can be found here.