Keeping UFCW members safe in meatpacking plants is a top priority as the COVID-19 pandemic continues. On Nov. 12, the UFCW announced its opposition to the latest attempt by the U.S. Department of Agriculture (USDA) to increase line speeds in poultry plants, which would endanger workers in these plants who are already on the frontlines of the pandemic.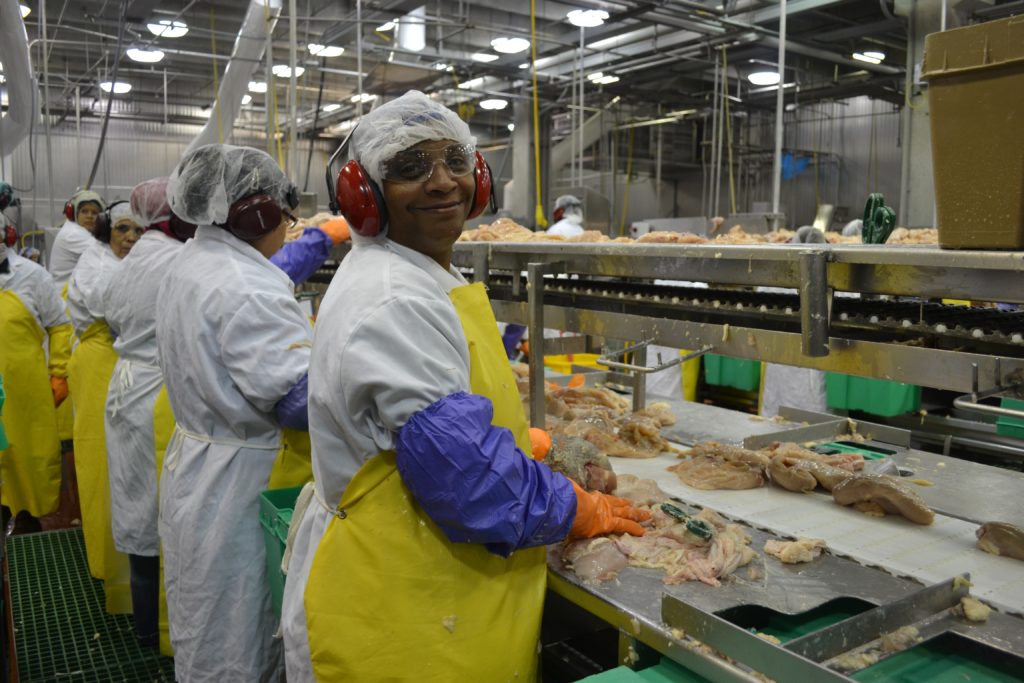 The USDA regulates poultry line speed in plants across the United States for both worker safety and to allow for food inspection. Current line speeds are set at about 140 birds per minute and the proposed regulation allows plants to operate at up to 175 birds per minute.
In 2017, the USDA considered a petition from the National Chicken Council to eliminate line speed limits. That effort was ultimately rejected after an outpouring of opposition from workers and consumers. Since then, the USDA has continued to approve record numbers of waivers to allow individual plants to operate at dangerously fast speeds, despite the coronavirus pandemic.
"This new push by the USDA to increase poultry line speeds makes clear that this White House cares more about corporate profits than the safety of workers," said UFCW International President Marc Perrone in a statement. "America's meatpacking workers are still on the frontlines of the pandemic putting themselves in harm's way to keep our country's food supply chain secure, even as COVID-19 cases skyrocket across the country. Slower line speeds protect workers from injuries and ensure safe social distancing to stop the spread of the virus. With poultry line speeds already moving at a breathtaking pace, any effort to increase these speeds is a direct threat to worker safety."
"As the union for America's meatpacking workers, the UFCW is calling on the Trump Administration to immediately stop this increase to poultry production speeds," Perrone added. "In the months ahead, the UFCW will urge President-elect Joe Biden to reverse the Trump Administration's dangerous policies and do all he can to protect America's meatpacking workers still on the frontlines of the COVID-19 pandemic."
The UFCW has been a leading national voice for strengthening safeguards in meatpacking and poultry plants, which have been disproportionately impacted by the COVID-19 pandemic. The UFCW and Public Citizen recently filed a lawsuit to prevent further line speed waivers in the poultry industry. The UFCW also supports "The Safe Line Speeds in COVID-19 Act," which was introduced by Senator Cory Booker (D-N.J.) and Representative Marcia Fudge (D-Ohio) to ensure that the USDA protects worker safety by maintaining safe line speeds.