David Dugan, a UFCW Local 1428 member who works as a general merchandise clerk at Stater Bros. Markets in Ontario, Calif., is using his artistic talent to raise awareness about the importance of hazard pay and voting.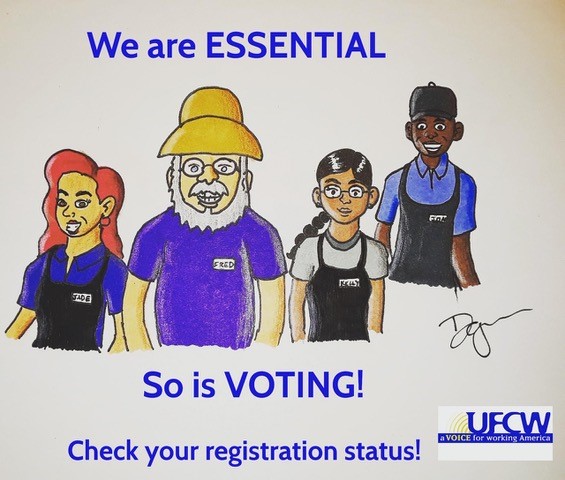 The 19-year union veteran created a flyers and cartoons about the importance of hazard pay and voting that have been widely shared by Local 1428 members and others on Facebook and Instagram.
His company discontinued hazard pay in July, "but the hazard is still out there," he said. "We are all exposed when we're working and can potentially expose our families."
"The risk of exposure is very high for essential workers like us," he added. "We were wearing masks in 100-plus degree weather and our fellow members were collecting carts outside in the heat while fires were burning and breathing in smoke. They should be compensated for working in these conditions."
Voting is another cause of great importance for Dugan, and he also created flyers and videos that use his cartooning skills to describe how to vote safely and explain why voting is important.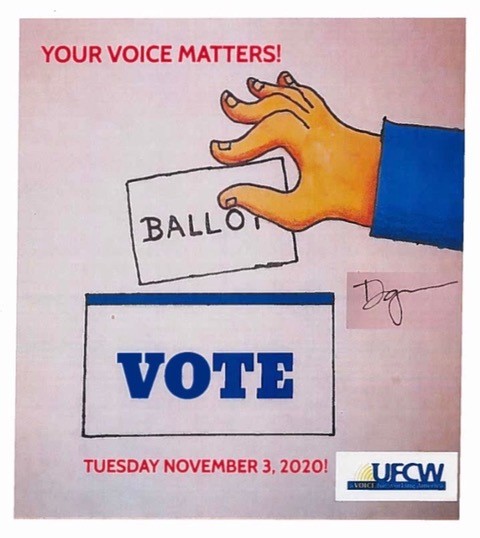 "I've been drawing for many years," Dugan said. "Seeing my fellow members working inspired me to use cartooning to make a statement."
"Ever since I turned 18 in 2002, I've voted in every single election — except in 2016, and I've been kicking myself in the head ever since," he said. "I decided I'm not going to make that mistake again and don't want anyone else to do it either. The right to vote is something we've fought for over the years and we all need to exercise our right."