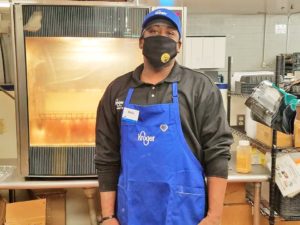 On Sept. 1, the UFCW launched a new national campaign to restore hazard pay for millions of America's frontline workers. The new campaign is calling on the country's leading grocery companies — including Whole Foods, Walmart, Kroger, Albertsons, Ahold — and many other essential businesses, to reinstate hazard pay in light of the continuing human cost being paid by America's grocery workers and other essential employees during the ongoing COVID-19 pandemic.
As part of the first phase of national hazard pay campaign, local unions were involved in at least 26 worker actions that were held at grocery stores and other essential businesses across the country during the week leading up to Labor Day. The actions took place in California, Texas, Georgia, Virginia, Colorado, Washington, Tennessee, Maryland, West Virginia, and other states hit hard by COVID-19.
Recently, the UFCW confirmed there have been at least 103 grocery worker deaths and over 14,300 grocery workers infected or exposed to COVID-19. As a new investigation by Bloomberg reported, the actual national number of workers who have died, become sick, or been exposed to the virus is likely much higher given that America's largest food companies have launched an effort to hide the true human cost of this pandemic.
"America's grocery workers are putting their lives on the line every day that they walk into the store because this pandemic is far from over and the health threats are just as real now as they were when this crisis began," said UFCW International President Marc Perrone. "It is outrageous that the CEOs of these companies refuse to restore hazard pay even as more of these workers are getting sick and dying every week. Hazard pay for grocery workers must be reinstated now."
"While top grocery chains rake in billions in profits during this pandemic, these frontline grocery workers continue to put themselves at risk to ensure our families have the food we need," Perrone added. "As long as the hazard of COVID-19 continues, these companies must do what is right and provide the hazard pay these grocery workers have earned and deserve."
The new campaign includes targeted paid and digital media to highlight the serious health threats these workers continue to face. The UFCW is also connecting customers and community members with essential workers to call on these businesses to guarantee hazard pay as long as the COVID-19 pandemic continues, and released first person testimonials from workers on the front lines, as well as customers and local community members, about the importance of hazard pay. To view the first person testimonials, click here.