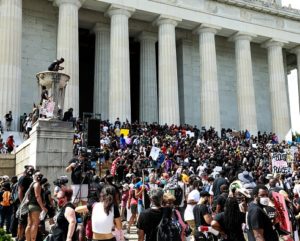 On August 27 to 28, the UFCW and local unions joined the March on Washington in support of the ongoing call for racial justice, and reiterated our union's commitment to equality and police reform.
This march marked the 57th anniversary of the historic March on Washington for Jobs and Freedom, where the Rev. Dr. Martin Luther King Jr. delivered his "I Have a Dream" speech to a crowd of thousands in front of the Lincoln Memorial in 1963. The event, which was convened by Reverend Al Sharpton and Martin Luther King III, featured civil rights leaders, activists, and families who have lost loved ones at the hands of police. Stacey Abrams, voting rights activist and founder of Fair Fight and Fair Count, and Rev. William Barber III, co-chair of the Poor People's Campaign and president of Repairers of the Breach, also spoke at the event.
UFCW International President Marc Perrone talked about the need to build a more equal America in a video address to the participants at the march, and also issued the following statement:
"As one of America's most diverse union families, the UFCW is proud to stand with its members and millions of Americans who are joining the call for equality, justice, and police reform. It is clear that the time for change is now. It must be led by us – all of us. Now, more than ever, everyone must stand together to build a more just and equal America where one's human rights are not determined by the color of their skin."
The UFCW is a strong advocate for the racial and economic justice in and outside the workplace for all people of color, and supports the George Floyd Justice in Policing Act of 2020 and the John Lewis Voter Rights Advancement Act.
You can view President Perrone's address to participants at the March on Washington here.