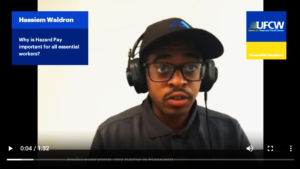 The UFCW is working with locals across the country to amplify the voices of our members about the importance of restoring hazard pay for frontline workers as COVID-19 cases continue to climb nationwide.
The UFCW's Communications Department, in partnership with dozens of locals, is assembling a collection of videos of members who are sharing their stories about how the pandemic has affected them and why hazard pay is so important to the well-being of essential workers. This video collection will be used on social media to engage customers and community members on the importance of hazard pay for essential workers during a national week of action beginning on August 31 and leading up to Labor Day.
Members are eager to tell their stories about the risks they are taking to serve their communities during this pandemic and what hazard pay means to them and their families.
"My responsibilities include bagging groceries and sanitizing all the carts in the whole store and making sure everyone is happy with the cart they got and that it's well cleaned and safe for people to touch," said Hasseim Waldron, a member of UFCW Local 324 who works at Albertsons. "I believe hazard pay would be a very great incentive and a great reward for our responsibilities as essential workers because we're on the front lines and making the customers happy and the pay would reward the risk we take."
"Hazard pay is important to me because I have a three-year-old daughter and I don't want to bring anything home to her," said Ebony Spicer, who is a member of UFCW Local 770 and works at Food 4 Less. "I am risking my life every day going out into the world….I believe Kroger, as well as all the other companies, should show their employees the utmost appreciation and respect and give us hazard pay."
"Hazard pay is vital for us essential workers," said Chelsea Brecht, who is a member of UFCW Local 1000. "Every day during the pandemic, we put our lives on the line. For me, personally, I just found out I was pregnant with my first child and that poses a whole new risk for me and my baby….Hazard pay is also a 'thank you' to your employees for putting their lives at risk and their families lives at risk when they come to work every day to support and assist our customers."
You can get more information about the video collection and how to make a video here.
In addition to the video collection, the Communications Department is also working with locals to place op-eds about the importance of hazard pay and organize store actions during the week of August 31. If your local is interested in participating in this campaign, please contact Jessica Raimundo and Amy Ritter in the Communications Department at jraimundo@ufcw.org and aritter@ufcw.org.