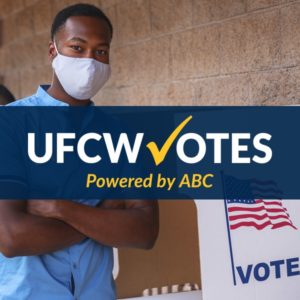 The UFCW has launched "UFCW Votes," a new resource to help our members navigate state voting policies and deadlines in preparation for Election Day during the era of COVID-19.
UFCW Votes includes up-to-date information for members by state, including registration deadlines and instructions; whether you can register to vote online; same day registration; whether you can vote early and early voting time periods; and whether you can vote by mail. The site also helps members check their voter registration status; register to vote online, print state voter registration forms; and apply to request a mail-in ballot.
The new resource also includes an outline of issues that are important to our members during this national health crisis. These issues include reinstating hazard pay for essential workers; providing sick days and paid leave for all workers; issuing an OSHA emergency temporary standard to protect all workers at potential risk of occupational exposure to infectious diseases, including COVID-19; and urging Congress to include an automatic presumption of workplace illness for food workers who contract COVID-19 through the performance of their duties in the next COVID-19 response bill.
UFCW Votes also highlights the importance of stabilizing multiemployer pensions; protecting workers in meatpacking plants by slowing line speeds and implementing mandatory and enforceable health and safety measures; and expanding access to SNAP food assistance with safeguards that support grocery store employees and ensure that authorized stores continue to serve SNAP customers without disruption.
"As we navigate the pandemic political landscape, we are putting in place tools to reach our members online with valuable voting information, so their voices are heard loud and clear on November 3rd," said International Vice President and Director of the Legislative and Political Action Department Ademola Oyefeso. "We look forward to working with locals across the country to amplify our members' voices this fall."
You can get more information about UFCW Votes here. You can also visit the UFCW Votes Facebook page here.