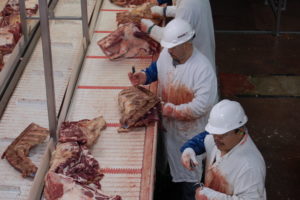 On August 14, the UFCW condemned a new agreement announced by the U.S. Department of Labor and the North American Meat Institute that threatens the safety of meatpacking workers who are on the frontlines of the COVID-19 pandemic. The UFCW called the pact a shameless corporate giveaway, saying it would give the industry even more power to police itself on worker safety and ignore safety measures essential to protecting meatpacking workers.
The UFCW recently confirmed that there have already been at least 113 meatpacking worker deaths and over 17,000 meatpacking workers infected or exposed to COVID-19. These numbers only include workers represented by UFCW, and with many meatpacking companies refusing to release internal numbers, it is likely that meatpacking worker deaths and infections are much higher.
UFCW International President Marc Perrone​ released the following statement in reaction to the new pact:
"This deal is an outrage, and it makes it clear that the Trump Administration does not care at all about protecting the brave meatpacking workers helping feed American families. Throughout the pandemic, employers have continued to keep workers and the general public in the dark about illness in the plants while trying to shield themselves from any liability for the role they played in the loss of life. It is shocking that the Department of Labor is now giving the meat industry even more power to police itself on worker safety.
"This is a shameless attempt to silence worker voices and give giant corporations direct access to the federal agency that is supposed to be in charge of oversight and accountability. Allowing the meat industry to conduct safety oversight of itself is dangerous for both workers and the safety of the food we eat.
"At a time when thousands of American workers in meatpacking plants have gotten sick and over 100 workers have already died, the White House can no longer ignore the severity of this problem. Americans know our food supply is safe when the workers who produce it are safe and the UFCW continues to demand clear, enforceable standards that would prevent plant shutdowns and, most importantly, protect workers before even more get sick and die."