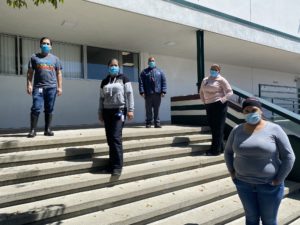 Members of UFCW Local 770 who work at Overhill Farms in Vernon, Calif., are leading the effort to make their workplace safer during this pandemic.
Members at the two food processing plants formed a COVID-19 Safety Committee to address and find solutions to workplace safety concerns about protecting workers from contracting the coronavirus. The committee was formed in July, and the 200 members now have gained the authority to implement safety and health precautions, including stopping the line during a shift if they see safety and health violations.
The COVID-19 Safety Committee members will ensure that everyone entering the two Overhill Farms food processing plants follow health and safety measures, such as social distancing throughout the worksite, including in the parking lot, restrooms, at the time clock, walking to their lines and even at their workstation. They will also monitor compliance regarding hand washing and appropriate personal protective equipment.
"We've won improved protocols and we have established a reporting process to make sure that everyone in the plant is safe. The COVID-19 committee gives us the authority to refuse to start the lines until all the health and safety measures are in place," said Gloria Lopez, a weight checker at Plant 1.
"We must ensure that our members at Overhill Farms are healthy and the company abides by all public health measures," said UFCW 770 Packinghouse Division Union Representative Armando Espinoza. "Food processing workers know the operations of their plants. They know how to make them safe. With health and safety committees based at their workplaces, essential workers can ensure that their voice and knowledge are part of the safety protocol. This committee will help protect the workers and local communities."
Overhill Farms employees produce frozen food items such as plated meals, soups, pastas, sauces and other specialties. These workers ratified a strong contract in 2019 and the COVID-19 committee is a separate extension of that agreement in the contract. Overhill Farms is owned by CPF, a Thailand based conglomerate.