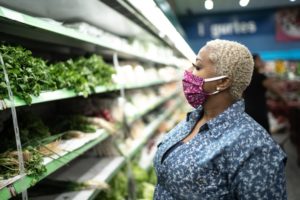 Last week, the UFCW called on grocery store chains Hy-Vee and Winn-Dixie to strengthen protections for America's frontline workers by mandating that customers wear masks inside stores. This response is part of our union's national effort to pressure employers to adopt mandatory mask requirements in grocery stores to protect our members and all essential workers during a global health crisis.
Grocery store chain Hy-Vee, which operates more than 240 stores in Iowa, Illinois, Kansas, Minnesota, Missouri, Nebraska, South Dakota and Wisconsin, recently announced that it will distribute free masks to anyone entering its stores starting on Monday, July 27 as part of its new initiative "Mask It Up To Shut COVID Down. It's Your Choice." However, while Hy-Vee employees have been required to wear masks since April, the company does not say it will require customers to wear them despite the distribution plans.
"Hy-Vee handing out masks is not a solution, it's a public relations stunt," said UFCW International President Marc Perrone. "As the CDC has said, and the UFCW has stressed for months, public mask mandates are the only way we can protect lives and stop the spread of this killer virus. With nearly 100 grocery workers already killed by COVID-19 and more than 12,000 workers infected or exposed, it is outrageous that any company would fail to implement the same common-sense customer mask requirement that Walmart and Kroger announced last week."
Winn-Dixie, which operates about 500 stores in Alabama, Florida, Georgia, Louisiana and Mississippi, recently announced that it would not require shoppers to wear masks at its stores, but then reversed its stance last week and announced that it would require customers to wear masks as of July 27.
"Winn-Dixie's initial refusal to mandate masks for customers, even as COVID-19 cases skyrocket across the South, was one of the most dangerous failures of corporate leadership we have seen since this pandemic began," said Perrone. "The swift backlash that forced Winn-Dixie to change their policy, and begin requiring masks, is proof that the majority of Americans know masks are the most effective tool we have to fight COVID-19."
"To help save lives, every retailer and grocery store in America must mandate customer masks, and mask mandates must be enforced by trained security and not retail workers already stretched thin," Perrone added. "This is the only way we can keep grocery stores safe for workers and the communities we serve."
This month, the UFCW announced a new partnership with over 100 health experts in a call to enact public mask mandates in all 50 states to combat the spread of COVID-19. In April, the UFCW launched the "Shop Smart" campaign, which encourages American grocery shoppers to a number of steps to protect themselves and workers, including wearing a mask inside stores. You can learn more about what the UFCW is doing to protect our members and all frontline workers during a national health crisis here.
If your local is interested in doing media interviews on mask requirements, contact the International Communications Department.