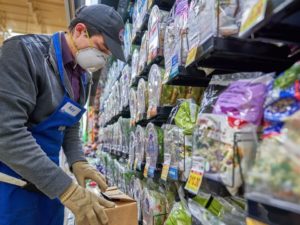 On June 25, the UFCW held a national press call highlighting the impact and growing danger of the COVID-19 coronavirus outbreak to our nation's frontline workers. During the call, the UFCW announced that over the last 100 days, 238 UFCW frontline workers in grocery stores, meatpacking and food processing plants, health care facilities, and other essential businesses have died from COVID-19 and nearly 29,000 members have been infected or exposed to this killer virus.
During the press call, UFCW International President Marc Perrone announced three new initiatives in response to the growing increase of COVID-19 cases in states across the country. The initiatives include: (1) reinstating hazard pay and establishing a $15 per hour wage for all frontline workers; (2) establishing a public mask mandate in all 50 states; and (3) creating a new national public registry to track COVID-19 infections involving frontline workers, which would require companies with more than 1,000 employees to submit monthly reports on worker deaths, infections, and exposure.
"With our country now 100 days into the COVID-19 pandemic, America's frontline workers still face many of the same dangers they faced on day one. In grocery stores, meatpacking plants, and health care facilities, our country's frontline workers are still getting sick and dying. It's high time for America's CEOs and elected leaders to pull their heads out of the sand and take the strong action needed to protect these brave workers and the communities they serve," said UFCW International President Marc Perrone.
"American workers simply cannot survive with the current patchwork of safety measures taken by only a fraction of companies and states with millions still unprotected and vulnerable," Perrone added. "We need real enforcement of the highest safety standards. Even worse, some of our nation's biggest companies like Amazon, Walmart, and Kroger are still keeping us in the dark and refusing to tell the American people how many of their workers have died or been exposed to COVID-19. Simply put, it is impossible to hold the government or corporate America accountable when they hide the true impact of this outbreak. The failure of the Trump Administration to enforce clear OSHA standards is giving giant corporations like Amazon and Walmart a free pass to ignore their responsibility to keep their workers safe and this is exactly why so many frontline workers have become exposed to this virus. There is something fundamentally wrong when the White House and Congress are spending more time trying to let companies off the hook for the health of their workers. Americans deserve better."
UFCW members Dennis Medbourn, a member of UFCW Local 700 who works at Tyson Foods in Logansport, Ind.; Linda Robinson, a member of UFCW Local 1625 who works at Brandywyne Nursing Home in Lakeland, Fla.; and Candice Oglesby, a member of UFCW Local 1000 who works at a Kroger store in Dallas, Texas, participated in the call and spoke about their struggle to cope with a global pandemic as frontline workers.
"I think that is the scariest thing about this virus," said Medbourn, who tested positive for COVID-19. "It spreads before you even know you have it and so much is still unknown. There are still people in the plant that are at risk of getting it, which means there are still people coming into work every day in fear. But we have realized throughout these past 100 days that the work we do is essential. People have to eat, and we have to go to work because the work we do helps supply food to millions of people."
"We've had to put our lives on hold to protect our residents," said Robinson, who works in a facility that has experienced a COVID-19 outbreak. "We're worried about our own families as well. My husband has a medical condition, and I'm worried about carrying the virus home to him. When I was waiting on the results of my first COVID test, I had to quarantine in a motel for eight days to keep him safe. I couldn't be home with my family, but I was there every day for my patients."
"Every day we go to work, we put our health and our entire family's health in jeopardy," said Oglesby. "Please know I love my job. I love my coworkers, I love my customers, and I love going to work knowing that I'm making a difference by helping families get through these hard times. I just don't understand what changed all of a sudden for states to reopen and loosen safety restrictions, and for companies like Kroger to get rid of essential hazard pay, when the only thing I've seen change is the number of positive cases rise in my state. It is too dangerous right now for people to not take this virus seriously."
The press call was covered by Reuters, CNBC, The Hill and other media outlets.