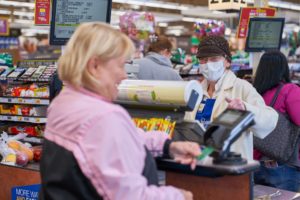 On June 19, the UFCW called on America's largest supermarket chains to immediately reinstate hazard pay in light of an explosion of COVID-19 cases nationwide with 10 states reporting their highest average of daily new cases since the pandemic started.
The failure to reinstate hazard pay not only ignores the continuing health and safety threat faced by America's 3 million grocery workers, but the reality that grocery workers contributed to record sales supermarket companies are experiencing. For example, Kroger just announced that total sales reached $41 billion in the latest quarter, a 19 percent increase from one year ago.
"Across the country, America's food retailers have ended hazard pay even as COVID-19 health risks have increased for grocery workers on the frontlines of the pandemic. Even worse, multi-billion-dollar companies like Kroger are raking in record sales just weeks after cutting hazard pay for the very grocery workers who made that success possible," said UFCW International President Marc Perrone in a statement.
"The decision by these companies to end COVID-19 hazard pay, despite the ongoing danger, ignores the simple fact that these essential workers are still on the frontlines of a growing pandemic," Perrone added. "As the nation's largest grocery chain, Kroger should be a leader in the industry instead of ignoring the serious health and economic effects faced by these brave workers. As long as the COVID-19 pandemic continues to grow, every grocery worker in America must receive the hazard pay they have earned for the vital work they are doing to serve our communities as the danger continues. Moreover, every company that is seeing record profits and sales should realize that these brave workers are literally putting their lives on the line to help feed this nation – and they deserve better than a pay cut from companies like Kroger."