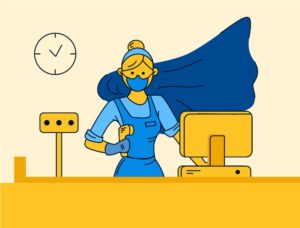 On June 10, UFCW International President Marc Perrone testified at a U.S. House Oversight and Reform Committee hearing about the importance of protecting America's frontline workers and food supply. In his testimony, Perrone called on Congress to pass legislation to ensure that adequate protections are provided for workers in grocery stores, meatpacking plants and all essential businesses.
At the hearing, titled "No Worker Left Behind: Supporting Essential Workers," Perrone called on Congress to protect, support and compensate essential workers by passing legislation that:
Compensates the families of essential workers who die as a result of COVID-19 or related complications.
Provides a cash benefit to essential workers who are hospitalized due to COVID-19 and recover.
Expands the paid sick days and paid family leave benefit that was included in the second stimulus bill, the Families First Coronavirus Response Act (H.R. 6201).
Requires companies to prioritize meatpacking and food processing for COVID-19 testing; provide personal protective equipment free of charge; and protect workers from retaliation for speaking out about safety issues.
"All across this country, our health care, food, and retail workers are risking their health and safety to ensure that the American people have the food, supplies, and medical care they need during this crisis," Perrone said during his testimony. "Essential workers – as so many of you have called them – have earned essential protections. Jobs that face high risk, as these do in the COVID-19 world we are living in, must be provided the protections, benefits, and wages that reflect that high health risk."
"Our internal estimates have confirmed 225 of our members have tragically died and over 29,000 have been sick or been exposed," Perrone added. "Some responsible employers like Cargill have done what is right. Others, including Amazon, Walmart, and even union employers like Kroger, have decided to put profits over people. The brutal reality is that far too many companies are failing to protect workers – and it is time that Democrats and Republicans step up and work together to do more. Millions of workers who lack access to paid sick days and paid family and medical leave are facing the devastating choice between risking their own health or risking the loss of a paycheck or job. Strong, anti-retaliation protections must be in place in order to ensure that workers who feel ill or who are suffering from COVID-19 can remain at home in quarantine for the full period of time recommended by the CDC until it is safe to return to work. Without these actions, I can promise you that more Americans will needlessly get sick and die."
You can view Perrone's testimony here.