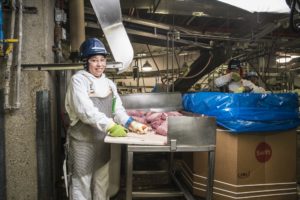 On June 10, UFCW locals that represent approximately 15,000 meatpacking workers in Iowa announced their strong opposition to new state legislation that would offer coronavirus liability waivers to irresponsible companies and allow them to ignore critical worker safety issues.
UFCW Locals 6, 222, 230, 431, 440, 617 and 1149 released the following joint statement from their presidents that called on Iowa Governor Kim Reynolds and state legislators to reject the bill:
"Iowa meatpacking workers across our state have been putting their lives on the line every day to ensure that our families have the food we need during this pandemic. Keeping our communities safe and food supply secure starts with protecting these brave frontline workers."
"With Iowa meatpacking workers continuing to die and become infected by COVID-19 every week, it is shocking to see state leaders push such a dangerous bill that will allow giant companies to abandon their responsibility to keep these Iowa workers safe. This legislation is a threat not only to these workers, but to our food supply and the millions of Iowa families these workers proudly serve. Governor Reynolds and state legislators must immediately reject this corporate giveaway and put the safety of hard-working Iowa families first above all else."
Some of our members in Iowa who work in meatpacking plants also spoke out against the legislation.
"For 31 years, I've proudly worked in Marshalltown to help families across Iowa put food on the table. This has always been a good job that's helped me support my family, but with the coronavirus outbreak, I worry every day about getting sick. The last thing we need is a law that gives companies a free pass to ignore safety at a time when we need the strongest worker protections possible," said Sherry Hart, a member of UFCW Local 1149 who works at JBS. "Our leaders should be standing up for Iowa meatpacking workers, not covering for big companies that fail to keep their employees from getting sick."
"As long as Iowa meatpacking workers like me are getting sick and coronavirus continues to put us at risk, our leaders should be focused on keeping us and our communities safe. I was shocked when I heard that Governor Reynolds is considering letting companies off the hook for protecting workers," said Memori Cleveland, a member of UFCW Local 222 who works at Seaboard Triumph. "In a crisis like this, our families deserve better."