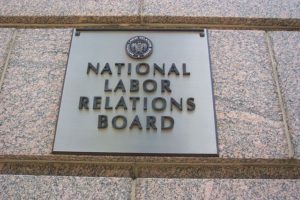 The National Labor Relations Board (NLRB) recently ruled that a ballot in a NLRB election with marks in both the "Yes" and "No" boxes should not be counted.
In this ruling, a worker marked an "X" in the "Yes" box and one diagonal line in the "No" box. Because the "No" box line was smudged, the NLRB's Regional Office counted the vote and the workers won their election. The Regional Office applied the rule that ballots with marks in both boxes should be counted if it is possible to determine the worker's intent. For example, the NLRB would count the ballot if it appeared that the worker tried to erase or scribble out the mark in one of the boxes because the NLRB would find that the worker did not intend to vote that box.
Because the NLRB speculated that the smudged mark may have been caused by the worker's sweaty hand instead of an attempt to erase the line, the NLRB overruled the Regional Office and ruled that the ballot should not be counted. This resulted in a tie and the workers lost their election.
The NLRB also revised the instruction included on ballots to more clearly instruct workers to request a new ballot from the NLRB agent if they make any marks in both boxes. While the new instruction is helpful, organizers should inform all workers to be sure to request a new ballot if they place any mark in or near the "No" box before they leave the voting area.
The case is Providence Health & Services, 369 NLRB No. 78 (May 13, 2020).
Any questions about the new NLRB rule should be directed to George Wiszynski and Amanda Jaret in the Legal department at gwiszynski@ufcw.org and ajaret@ufcw.org.