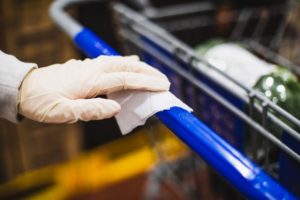 On May 20, the UFCW hosted a national press call with leading reporters from across the country to address the fact that many of America's largest supermarket and food retail companies – including Kroger, Walmart and Amazon – have recently ended so-called "hazard or hero pay" even as the pandemic continues across the country.
During the call, UFCW International President Marc Perrone called on these companies to immediately reinstate this essential pay until the need to wear masks and other protective measures are no longer necessary.
As a measure of the real and growing risk of the public health crisis facing grocery workers, the UFCW also released new internal numbers that show at least 68 grocery workers have died and more than 10,000 have been infected by or exposed to the new coronavirus. During the call, the UFCW called on every leading food retailer to release the number of their food retail and supermarket workers who have died or become sick and/or exposed to COVID-19.
"As this pandemic continues, the threat of this virus is real across every grocery store in America," said UFCW International President Marc Perrone. "Yet, most states and supermarket chains are still failing to enforce social distancing or mask wearing in stores to keep customers and workers safe. Even worse, Walmart, Whole Foods, Trader Joe's and Kroger have failed to release internal numbers on worker deaths, infections, and exposure. Amazon even fired workers brave enough to speak out."
"Amazon, Whole Foods, Kroger and other companies have shamefully announced pay cuts for millions of these workers on the frontlines, even as each company experiences record sales," added Perrone. "When workers face higher risks, they should be paid more. These workers are not facing fewer hazards and are still putting themselves in harm's way, interacting with thousands of customers a day to help ensure our families have the food we need. While we hope some of these companies do change and follow the lead of other national companies like Albertsons and Ahold who acted responsibly to extend this hazard pay, we are preparing options to ensure that every American knows which supermarket companies stood by their workers and their families and which did not. American consumers and workers deserve better and we will continue to stand with them."
As part of the call, Kroger grocery workers from across the country spoke about the serious risks they face, and how Kroger eliminating its 'hero pay' has had a damaging effect on them and their coworkers.
"Five people in my household work for Kroger and together, we put in about 250 hours per week," said a Ralphs (Kroger banner) grocery worker in San Diego, Calif. "When Kroger gave us 'hero pay,' it felt like we mattered and they were recognizing the risks we are taking. Every day, you fear that you might catch the virus at work. You fear that you might take the virus home to your family. I've had customers swear at me when we ask them to wear a mask. One customer even told me I might be dead in a month. After work each day, I want to cry, but I don't have the tears to cry because it's not going to make things better. We are working longer hours under stressful conditions. At my store, they take daily temperature scans, but the thermometers the company provides us don't work. Kroger and all grocery companies need to provide the protective equipment, testing, and essential pay that all of us need so that we can keep our stores operating safely. Our lives are on the line."
"There is a lot of fear in my store because of the virus," said a Kroger meat department worker in Lansing, Mich. "Every day, we prepare like we're going into battle with the virus. We are exposed to thousands of people every day for hours and the reality is it only takes one person to expose an entire store. Kroger ended our 'hero pay,' but the crisis is not over. I face each day with anxiety and it gets worse when I see customers refuse to wear masks. I am a mother and my children need me to stay healthy."
You can access the full video recording of the press conference here.