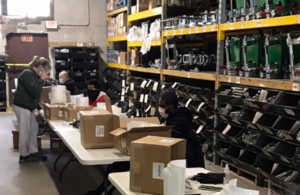 Members of UFCW Local 342 who work at Railex Corp., a manufacturer of garment and clothing conveyors, handling and storage systems in Copiague, N.Y., have been manufacturing face shields since the beginning of April. Fifteen members of UFCW Local 342 work at the plant.
When UFCW Local 342 learned that the plant was shifting from their normal manufacturing of garment systems and would now manufacture face shields, the local put them in touch with other UFCW Local 342 employers in the wholesale industry that were having a hard time getting proper protective equipment for over 600 members working in those shops, including L&S Packing, AVA Pork, Porky Products and Plymouth Beef. Members in these wholesale shops were happy to show off the face shields made by fellow UFCW Local 342 members and members working in Railex Corp. were happy to help their fellow union brothers and sisters.
"Our members are proud to support their fellow union brothers and sisters and the communities and families in which they work and live during the current crisis," said UFCW Local 342 President Richard Abondolo. "Local 342 is proud to represent the men and women working at Railex Corp. and commends their efforts, as well as all of the UFCW members who continue to work through this pandemic head on. Local 342 members became essential overnight and we are happy to call them our essential workers, our hometown heroes, our frontline warriors, but most importantly, we are happy to call them our members."
"Member safety is a top priority and Local 342 will continue to work hard to ensure our members in all industries are provided the proper equipment to protect themselves, their customers, and their families during this trying time our country is faced with," Abondolo added.
You can learn more about  how UFCW Local 342 members shifted from manufacturing garment systems to face shields here.