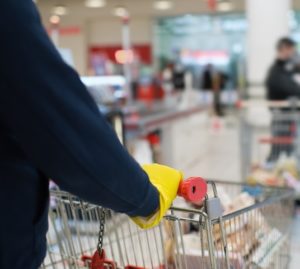 The UFCW sent a letter to 49 CEOs of the top U.S. supermarket chains on May 15– including Walmart, Costco, Whole Foods and many others – condemning them for failing to extend emergency pay and protections for grocery workers who are working on the frontlines of the coronavirus outbreak.
In the letter, UFCW International President Marc Perrone urged these companies to reverse the decision to end so-called hazard pay for their employees, and to publicly recognize that the health risks posed by the COVID-19 pandemic continue to cost lives across the country. New internal UFCW estimates show that at least 65 grocery workers have died, and at least 9,810 have been infected or exposed to the deadly virus.
"Millions of American grocery workers have been rightfully called essential by our nation's elected leaders" stated UFCW International President Marc Perrone in the letter. "Given the daily risks faced, these workers deserve critical protections, benefits, and a higher wage for as long as this public health crisis endures. That your companies are even considering cutting the pay of these frontline workers, while you experience record sales, is shocking in its indifference."
"Workers are still dying, including many of your own frontline employees," Perrone said. "Every one of your grocery workers are still being asked to risk exposure to this virus and work in dangerous conditions that require them to wear protective equipment on the job. You are suggesting that frontline workers should work for less because the threat has diminished even as you and your entire executive teams continue to work from home."
"If you truly believe that the threat of COVID-19 has passed for your workers, then you should be willing to admit this publicly," Perrone added. "Until that day comes, you have a responsibility to provide your workers with essential protections and benefits, including so-called hero/appreciation/hazard pay, until this terrible threat has passed. For the sake of these workers, our families, and our nation's food supply, we ask you to remember your responsibility to ensure that these workers are receiving the premium pay that they have rightfully earned by facing the very risks that so many Americans—including all of you—have been lucky enough to avoid."
The letter was sent to the following supermarket companies:
Walmart Supercenters – Bentonville, AR
Costco Wholesale Corp. – Issaquah, WA
Publix Super Markets Inc. – Lakeland, FL
Sam's Club – Bentonville, AR
H-E-B – San Antonio, TX
Whole Foods Market Inc. – Austin, TX
Aldi Inc. – Batavia, IL
Southeastern Grocers – Jacksonville, FL
Wegmans Food Markets Inc. – Rochester, NY
BJ's Wholesale Club Inc. – Westborough, MA
Hy-Vee Inc. – West Des Moines, IA
WinCo Foods LLC – Boise, ID
Save-A-Lot – Earth City, MO
Winn-Dixie Stores Inc. – Jacksonville, FL
Sprouts Farmers Markets – Phoenix, AZ
DeMoulas Supermarkets Inc. – Tewksbury, MA
Smart & Final Stores LLC – Commerce, CA
Ingles Markets Inc. – Black Mountain, NC
Golub Corporation – Schenectady, NY
IGA Inc. – Chicago, IL
Lidl US LLC – Arlington, VA
K-VA-T Food Stores Inc. – Abingdon, VA
Brookshire Grocery Co. – Tyler, TX
Grocery Outlet Inc. – Emeryville, CA
Big Y Foods Inc. – Springfield, MA
Gordon Food Service Store – Wyoming, MI
The Fresh Market Inc. – Greensboro, NC
Bashas' Inc. – Chandler, AZ
Cardenas Markets LLC – Ontario, CA
Fareway Stores Inc. – Boone, IA
Woodman's Food Markets Inc. – Janesville, WI
Rouses Enterprises LLC – Thibodaux, LA
Marc Glassman Inc. – Cleveland, OH
Lowes Pay and Save Inc. – Littlefield, TX
Redner's Markets Inc. – Reading, PA
Brookshire Brothers Ltd. – Lufkin, TX
Four B Corp. – Kansas City, KS
Associated Food Stores – Salt Lake City, UT
Niemann Foods Inc. – Quincy, IL
Cosentino's Food Stores – Prairie Village, KS
All American Quality Food Inc. – Stockbridge, GA
Food Giant Supermarkets Inc. – Sikeston, MO
Harmon City Inc. – West Valley City, UT
Sedano's Supermarkets Inc. – Hialeah, FL
Stew Leonard's – Norwalk, CT
Fresh Encounter Inc. – Findlay, OH
B & R Stores Inc. – Lincoln, NE
ABC Stores Hawaii – Honolulu, HI
Aurora Grocery Group – Charlotte, NC
You can read the letter here.