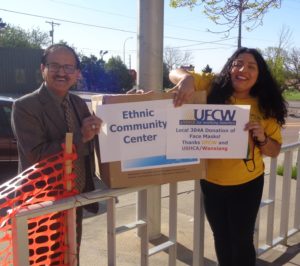 UFCW Local 304A, in partnership with the U.S. Heartland China Association (USHCA) / Wanxiang, recently donated over 25,000 masks to businesses and community members in Sioux Falls, S.D.
The masks were donated to the local by USHCA / Wanxiang and staff from UFCW Local 304A then distributed them to the Multi-Cultural Center of Sioux Falls; Minnehaha County Sheriff's Department; Siouxland Library; Rosebud Reservation Cultural Center; Brave Heart Society; Ethnic Community Center; Lakota Friends Circle and Elder Center; South Dakotans Against Racism; and members of the South Sudanese community.
UFCW Local 304A also gave out over 10,000 masks to our members and plans to continue their donations to those in need.
"I appreciate the generosity of the USHCA that made it possible for UFCW Local 304A to distribute important PPE to much needed families," said UFCW Local 304A President B. J. Motley.