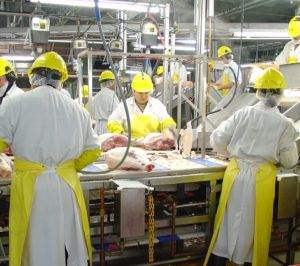 Last week, the UFCW responded to President Trump's executive order to keep meatpacking plants open and called on the president and state governors to take actions to protect the safety and health of meatpacking and food processing workers by strengthening testing and other safety measures.
New internal UFCW estimates have confirmed 20 worker deaths in meatpacking and food processing plants. In addition, at least 5,000 meatpacking workers and 1,500 food processing workers have been directly impacted by the virus. Those directly impacted include individuals who have tested positive for COVID-19, missed work due to self-quarantine, are awaiting test results, or have been hospitalized and/or are symptomatic.
The UFCW's estimates also show 22 meatpacking plants have closed – including union and nonunion plants – at some point in the past two months. These closures have impacted over 35,000 workers and resulted in a 25 percent reduction in pork slaughter capacity, as well as a 10 percent reduction in beef slaughter capacity.
"While we share the concern over the food supply, today's executive order to force meatpacking plants to stay open must put the safety of our country's meatpacking workers first," said UFCW International President Marc Perrone in a statement. "Simply put, we cannot have a secure food supply without the safety of these workers. We urge the Administration to immediately enact clear and enforceable safety standards that compel all meatpacking companies to provide the highest level of protective equipment through access to the federal stockpile of PPE, ensure daily testing is available for workers and their communities, enforce physical distancing at all plants, and provide full paid sick leave for any workers who are infected. Additionally, to protect the food supply and ensure these safety standards for workers are enforced, these plants must be constantly monitored by federal inspectors and workers must have access to representation to ensure their rights are not violated."
The  UFCW also sent a letter to the National Governors Association and to every governor in the country last week, calling on governors to protect meatpacking and poultry workers by enforcing guidelines issued by the Centers for Disease Control and Prevention (CDC) and the Occupational Safety and Health Administration (OSHA). The letter was sent in response to President Trump's executive action to mandate that meatpacking and poultry plants remain open.
The CDC and OSHA issued guidelines on April 26 for meatpacking and poultry workers and employees. In the letter to National Governors Association, the UFCW calls the guidelines a step in the right direction but asks governors to both enforce those guidelines and issue additional protective measures that include the following:
Enforcing Physical Distancing: Plants must reconfigure the workplace to achieve physical distancing of at least six feet between workers, both on the production floor and off.  Barriers, such as plexiglass barriers, should be used only to reinforce the six feet distancing, not as a substitute for six feet distancing.  The CDC and OSHA do not make this statement, but this type of distancing may require the speed of the line to be reduced in order to achieve a reduction or minimization in the spread of the virus.
Providing Respirators: All workers on the production floor should be provided with N-95 respirators, which will provide the level of protection needed to protect workers from inhaling virus particles.  Employers must additionally do the following to maintain the integrity of the respirators;
Provide a new respirator at the beginning of every shift.
Provide fit-testing.  Replace respirators if damaged or contaminated.
Follow the current CDC guidelines for disinfecting and storing respirators, if respirators are reused.
Provide training on proper donning and doffing procedures in languages workers understand.
Provide additional time for hand hygiene and for proper donning and doffing of respirators.
Providing Testing: All workers, including management, who are currently working in the plant, should be tested for COVID-19.  Ideally, rapid testing of workers as they enter the workplace would ensure that workers carrying the virus are not entering the workplace.
Providing Mandatory Paid Quarantine: Should a positive case of COVID-19 be identified in the workplace, those in close contact with the infected individual should be identified as well and paid to stay home for the full two weeks.  This would ensure more workers are not infected or exhibiting symptoms of COVID-19 in order to mitigate the spread of COVID-19 in the workplace.
Protecting Workers From Retaliation: The UFCW believes that strong, anti-retaliation protections must be in place in order to ensure that workers who feel ill or who are suffering from COVID-19 can remain at home, in quarantine for the full period of time recommended by the CDC, until it is safe to return to work.  Workers must be encouraged to report any symptoms of illness, or of COVID-19, while at work, as well as any other safety and health hazards, and not suffer any negative consequences for doing so.  
"Meatpacking and poultry workers have been working tirelessly through this health crisis so that millions of Americans continue to have access to the food they need," said Perrone in a statement. "President Trump's executive order now mandates that they continue to do so, without any language that ensures their safety. Let me be clear, the best way to protect America's food supply, to keep these plants open, is to protect America's meatpacking workers.  
"Every governor has the ability to take key steps and additional safety actions to protect these workers and it is imperative that they do so immediately," Perrone added. "To protect our food supply and workers, strong, enforceable safety standards must be implemented in every meatpacking plant. These safety standards must ensure all workers have access to testing and personal protective equipment, social distancing is enforced, and paid sick leave is provided to all workers so that no one comes to work sick.  In order to protect our nation's food supply as President Trump is calling for us to do, we must work together to keep the hard-working men and women in these plants safe. Now, more than ever, this must be a priority for all of our state and national leaders" 
You can read the UFCW's letter to the National Governors Association here.