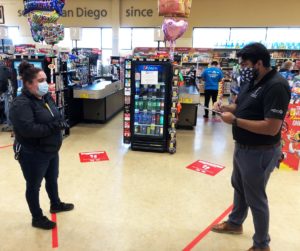 UFCW Local 135 has been auditing stores and facilities in San Diego and Imperial counties in California since mid-April with the goal of keeping our members safe during the outbreak.
Armed with clipboards and audit forms, UFCW Local 135 representatives and organizers have been working together to monitor 250 stores and facilities covering approximately 12,400 members who work at Ralphs, Vons, Albertsons, Gelsons and Stater Bros. grocery stores, Rite Aid and CVS stores, ApotheKare and MedMen cannabis facilities, and Kaiser Permanente medical facilities.
UFCW Local 135 representatives and organizers stand at store and facility entrances to monitor whether customers are wearing masks, as well as whether stores and facilities are limiting customers and controlling crowds. The representatives and organizers also monitor whether our members have the personal protective equipment needed to stay safe and healthy, access to sanitizers and the ability to wash their hands every 30 minutes, and whether breakrooms have been set up to comply with social distancing requirements.
"Our members were being unnecessarily exposed to the virus and the audits forced management to comply with local laws, guidelines, and policies put in place to protect our members," said UFCW Local 135 President Todd Walters.
Locals interested in auditing stores can find a COVID-19 Safety Audit Form here.