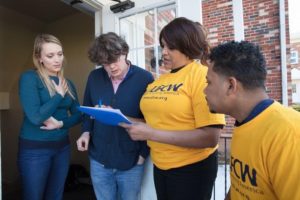 In February, a group of 26 members, as well as local union and International staff, convened for a 2020 Political Bootcamp Training for Member Organizer Leads at UFCW Local 770 outside of Los Angeles.
This year, the UFCW plans to bring at least 400 member organizers (a.k.a SPURS / Lost-Timers) out to engage, motivate and ultimately turnout our members. To help run such a large program, the UFCW will use leads that are both members and local union staff to support member organizer teams. The training focused on skills needed to lead a team of our member organizers, and incorporated a curriculum on team supervision, campaign tactics and the voter file.
"With this training, I learned how to organize and lead a group of people. I also learned how to use technology at our disposal to facilitate our work, problem solve, and help people communicate with each other so no other problems arise," said UFCW Local 99 member Cesar Escobedo.
"The member organizer lead training was informative and inspiring and everything in between," said Alex Garcia, secretary-treasurer of UFCW Local 1439. "The 2020 presidential election is so important in so many ways. I am so excited to see the International invest as much as they are into member organizing. Thank you for the opportunity to learn and to lead other union members in this very important election. Together, we can make a change."
The training incorporated both learning and practice, with participants testing out the curriculum by doing worksite visits and canvassing in the California Congressional District 25 Special Election Primary. The pro-union candidate in the race – Christy Smith – won the primary on March 3rd and will be in a run-off election for the seat on May 12th.
"Congressional District 25 is a key district for our union, with high union membership, and historically anti-union leadership.  It was fantastic to have leaders from across the country join us in the district to turn out our members in favor of a pro-union candidate," said UFCW Local 770 Deputy Civil Rights and Political Director Rachel Torres. "Our members were trained in all aspects of campaigning and are super excited to join the national fight to win back Congress and the White House to support our values moving forward."
"The training was amazing!" said UFCW Local 21 member Charles "Chuck" Svac. "The training was very intense, especially for someone like me who has very little to no experience in this scenario. It left me exhausted but energized to get ready for the next chapter and challenge. I'd definitely do it again!"
Another 2020 Political Bootcamp Training for Member Organizer Leads will be held in late spring or early summer, and details will be released soon. If you have questions in general about member organizers for 2020 or training, please reach out to National Political Director Karen Gasper at kgasper@ufcw.org.