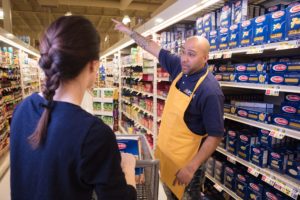 The UFCW continues to advocate for the rights of our members during the COVID-19 cornonavirus outbreak, including applauding pro-worker policies that are implemented by state leaders and employers during this crisis.
State Leaders Stand With Grocery Workers
On March 19, the UFCW praised leaders in Minnesota, Michigan, and Vermont for recognizing the critical work being done by grocery workers in their states. All have designated grocery workers as first responders during the outbreak, similar to health care workers. As a result, UFCW members working in grocery stores in these states will now have access to free childcare.
Minnesota Governor Tim Walz issued a directive as part of an order for "Care for Children of Families of Emergency Workers," which instructs closed schools to continue to provide care for children of emergency personnel who are "critical to the response of COVID-19." Under the order, grocery workers are considered "essential tier 2 workers" and would be covered.
Michigan Governor Gretchen Whitmer signed an executive order to expand the capacity for childcare services for health care workers, first responders, and other members of the essential workforce during the coronavirus crisis. This expands the essential workforce to include grocery workers who are helping to provide essential supplies and goods during the outbreak.
Vermont is developing a plan to reimburse private childcare centers for providing care to essential workers, including grocery store workers who are now considered essential employees during the outbreak.
"UFCW members in grocery and retail stores across the country are working around the clock to make sure that families have the food and supplies they need," said UFCW International Marc Perrone in a statement. "We applaud Minnesota, Michigan, and Vermont for recognizing that these workers are on the front lines, providing an essential service to their communities."
UFCW Members in Grocery Stores Get Pay Increase, Essential Benefits
On March 21, the UFCW applauded Stop & Shop for giving over 70,000 Stop & Shop and Peapod employees across New England, New York and New Jersey, who are represented by our union, a 10 percent increase in pay during the coronavirus outbreak. Workers will also receive two additional weeks of paid leave if they become sick.
The International and UFCW Locals have been negotiating with employers across the country to recognize how hard grocery workers are working to provide necessary food and supplies to their communities during the coronavirus pandemic.
As a result of these efforts, the UFCW and Safeway announced that Safeway would provide a $2.00 per hour increase in pay for its grocery workers across the country during the outbreak.
In California, UFCW Locals applauded Stater Bros. Markets for implementing a $2.00 per hour pay raise to its workers. The raise will apply to all hourly employees over the course of four weeks beginning March 23.
In Missouri, UFCW Local Union 655 secured a deal for grocery workers at Schnucks, Dierbergs, and Straubs to waive all copays for coronavirus testing, maintain pay for those who become sick, and expand access to telemedicine with zero out-of-pocket costs.
You can learn more about what the UFCW is doing to help our members during this global pandemic here.