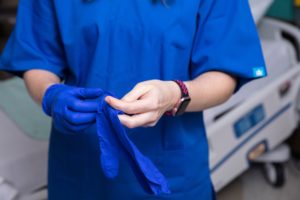 UFCW Local 21 is hosting a donation site, along with other unions and organizations, to call attention to the critical need for personal protective equipment (PPE) for health care workers and first responders in Washington.
The state has been hit hard by the COVID-19 coronavirus outbreak, leaving health care workers around the state without the PPE they need to safely treat patients. UFCW Local 21 represents about 20,000 health care workers in Washington.
Along with the Washington State Council of Fire Fighters, Washington State Labor Council, Washington State Nurses Association, and SEIU 1199NW and 775, UFCW Local 21 is asking for personal protective equipment such as masks, gowns, eye protection and gloves for health care workers and other first responders on the front lines of the crisis.
"Our health care workers are on the front lines of this pandemic without the necessary protective equipment and the entire labor community is coming together to support them," said UFCW Local 21 President Faye Guenther. "We are asking workers in all industries, from the building trades to dental offices, to donate unused equipment, and we thank those who have already stepped up with donations by the hundreds."
UFCW Local 21 and its partners are asking any individual or business with an inventory of personal protective equipment to donate those  items. Priority items include unopened boxes of masks (N95 preferred), gowns, eye protection, and gloves.
You can get more information about this important effort to protect the lives of our members and other first responders in Washington here.