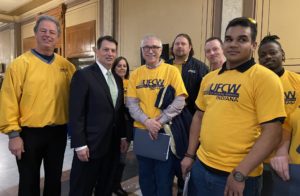 UFCW Locals 227, 700, and 881 recently held a day of action at the Indiana Statehouse. Members joined together to advocate for SB 324, a bill that provides reasonable accommodations for pregnant workers.
As introduced, this legislation gives pregnant workers the right to important accommodations to ensure that they can continue to work safely during pregnancy. However, the legislature replaced the bill's language granting the accommodations with a study committee to explore pregnancy and childbirth accommodations and the fiscal impact on businesses within Indiana.
"When the study committee concludes its work, the legislature should work quickly to pass pregnancy accommodations," UFCW Local 700 President Joe Chorpenning said. "This is common sense policy that helps hard-working women remain in the workforce and strengthen our state's economy."
Pregnancy accommodations are good for workers and good for business. Reasonable accommodations help ensure that pregnant workers stay safe, healthy, and employed. Indiana is a leader in female labor force participation (within the top half in our nation), and pregnancy accommodations will ensure that Indiana can continue to lead.
Economic security for local families will be strengthened when Indiana passes these worker protections. According to the Indiana Institute for Working Families, nearly half of women are the sole or primary breadwinners for their families and need to continue working throughout pregnancy. And many women (especially women without a union) have limited, if any, paid leave.
Essential accommodations for pregnant workers include being given breaks from sitting/standing for long hours; avoiding chemicals, radiation, or other hazardous substances; and having more frequent breaks overall. Pregnant women report being refused accommodations – or not even asking for them – because they are afraid of losing their jobs, and having their hours cut as retribution.
Businesses know what is expected when their employees are pregnant, and they can account for these changes. And when pregnant workers can count on common sense accommodations, they are able to keep their current job, leading to lower turnover and greater stability for local businesses.
"While 2020 will not be the year pregnant workers in Indiana get the protections they need, our union members put legislators on notice," said UFCW 227 President Bob Blair. "We are paying attention and we will not stop fighting for the rights of pregnant workers to ensure that they are healthy and safe on the job."