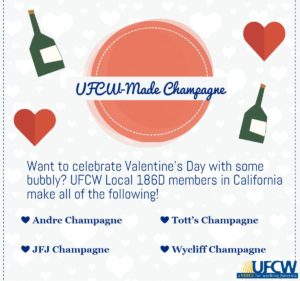 From sparkling wines to See's Candies, UFCW members have been hard at work to make Valentine's Day a little sweeter.
Members of UFCW Local 5 who make See's Candies craft each chocolate confection by hand. The Food Network's Tyler Florence visited UFCW Local 5 members at the See's Candies factory in San Francisco and got a peek at how these Valentine's Day treats are made. You can view the video here.
You can pair your box of See's Candies with sparkling wines made by members of UFCW Local 186D, including Andre Champagne, JFJ Champagne, Tott's Champagne and Wycliff Champagne.
UFCW members also have access to exclusive discounts for Valentine's Day gifts, including 25 percent off on flowers and gift baskets. Register here for these discounts and make someone's Valentine's Day special.