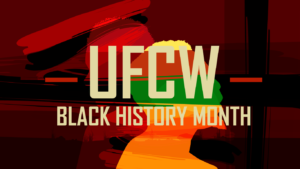 The month of February is Black History Month–an annual celebration of the incredible contributions of African American leaders and pioneers who did so much to advance civil rights and expand opportunities for generations of workers.
Black History Month dates back to 1926, when historian Carter G. Woodson and other prominent African Americans dedicated the second week in February as "Negro History Week" to coincide with the birthdays of Abraham Lincoln and Frederick Douglass.  In 1976, the celebration was officially recognized and expanded and every U.S. president since then has celebrated Black History Month during the month of February.
This month, the UFCW will pay tribute to African American labor leaders like Bayard Rustin who fought for fair wages and the freedom to organize in spite of considerable barriers. We will also highlight new leaders who continue to fight for social and economic justice today. If your local has a member activist you would like to profile during Black History Month, please contact Julie Anderson at janderson@ufcw.org.