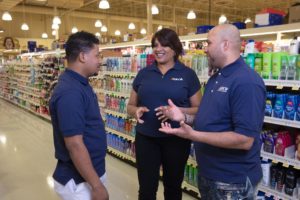 Organizers are starting 2020 strong with new tools to help locals strengthen relationships with current members and create new connections with workers interested in joining the UFCW.
UFCW Local 75 in Ohio is the latest to expand their organizing toolkit. They joined members of the International's Organizing Department for a reflective engagement training in December.
Reflective engagement is an approach to organizing and member communications that builds on what experts know works best. Studies show that active listening, asking questions and reflecting back the response in your conversations with workers is the most effective way to connect with them. By using this technique, organizers are having more successful, open and high-quality conversations with workers and members.
Joining the UFCW Local 75 training in Ohio were staff representatives, organizers, and member organizers. The training focused on the strategy behind reflective engagement and how to put that strategy into action in the field. Participants in the Ohio training were able to practice reflective engagement in real conversations with potential members and then talked about how these new techniques will support their organizing this year.
At the completion of the training, it was already clear that organizers and representatives were developing stronger relationships with our members and potential members by having conversations that felt more personal and less transactional. Connections with members were strengthened and representatives are now better prepared to clearly communicate the value of being a UFCW member.
"Whether we are engaging potential members during an organizing campaign or handling a grievance for a long-time member, the framework of those conversations matter," said Bill Benner, the director of organizing at UFCW Local 75. "The reflective engagement conversation model is a powerful and valuable tool to get the most out of every interaction. With the assistance of the International and Region 4 staff, we have been able to provide this training to new staff, member organizers and even continue to refine and develop the skills of our most experienced representatives."
UFCW locals from across the country have participated in reflective engagement trainings and are continuing to find success as they apply it to their organizing and outreach campaigns. If your local is interested in learning more about this innovative approach, contact Jenny Reed at jreed@ufcw.org.